I've known for a while that Trevor can be a great top and bottom at the same time ever since he did his Edging video with Glenn. He can flip-flop quite easily and does great in both roles, active and passive. I was really keen on seeing him flip-flop with a dude.
Jet is similar in this respect, although he enjoys getting fucked so much that often he has to jerk off several times before we shoot the scene because otherwise he would cum too soon. Not bad for a straight dude, eh? Actually, Jet has fingered his ass even before his buddy Solomon suggested he tried doing porn shoots with us. I am really glad to see that more and more straight guys are not ashamed to experiment with their anal opening and derive pleasure from fingering their ass or getting fucked.
The two men start off by kissing and some sword fighting. They were hard from the get go, and proceeded to suck each other off. Jet had to tell Trevor to ease up as soon as Trevor began to suck his cock.
Then they continue by rimming each other's ass, as a preparation for hard fucking. Trevor's cock is pretty big and it was such a hot scene to watch it go in and out of Jet's mouth, while at the same time Jet wanked his own dick. Then Jet rims Trevor while stroking his dick. All in all, the rimming action in this video was really good.
Trevor likes it all natural, so he used his spit to lube up Jet's hole before sliding his dick inside. Trevor is pretty aggressive as a fucker, he likes it rough and manly, there are no tender moments with him. There was some experimentation while Trevor tried to find the proper angle, but once his cock was inside Jet, there were no problems.
Trevor also has an issue about cumming too soon sometimes, and today he was close to shooting during the first fuck scene. So I recommended that the guys change roles. Now Trevor impales on Jet's dick and rides it for a while. Hot scene, too!
Jet told me that his favorite position is when he lies on his back while a guy fucks him. It was so good while Trevor penetrated his ass, that he couldn't withhold nutting and he shot his load. Trevor was a bit surprised but quickly recovered. Trevor took Jet's cum and pushed it onto his cock, sliding it again into Jet's asshole and essentially using Jet's cum as lube!
Jet did not lose his erection at all, and in fact in just 60 seconds he cummed again! Then I told Trevor to continue to fuck, until he fucks the cum out of Jet. So that was Jet's third cumshot in just once fuck scene – pretty amazing!
Trevor is truly a great top. He is gay and knows how to fuck a man. He always uses the best method to fuck another guy, and obviously has a lot of experience.
This is a pretty long video, lasts about 36 minutes and I'm sure you're gonna enjoy it as much as we did while filming it.
Preview video: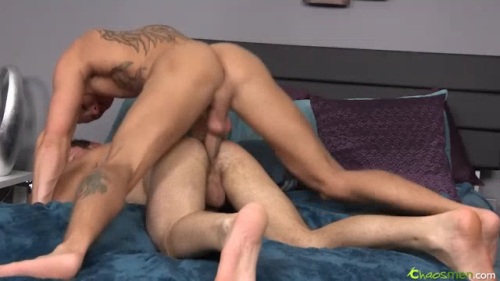 Click here to watch their entire video in HD quality at Chaosmen!
Chaosmen is a great porn site that features hot straight and bi men getting serviced or fucking their mates bareback for some cash. This site is exceptional and very unique because almost every single fucking is bareback and ends with gorgeous internal cumshot or creampie.