by Ben Daniels (Admin) on Apr.23, 2016, under Chaosmen
We've already seen Adam Cub on several occasions, and since his last solo session he made it clear that he'd like to push his boundaries with men, even though he's totally straight. Well, Vander has proven as a great "secret weapon" for this very thing time and again so we decided to try him on Adam as well.
It's interesting to note that although Adam's cock didn't have any issues with getting hard with men, it seems as if there's still some kind of blockage there in his mind, as if he can't let it be… but hopefully things will fall into their right places over time.
One should also keep in mind that Adam's body is naturally muscular. He doesn't do any steroids and even if he wanted he couldn't do it because he's Type 1 diabetic so he must absolutely stay away from all that chemistry. Adam's body is 100% natural, and he owes it all to good natural diet, hard work in the gym and partially genetics.
Vander is always in the mood to service a hot straight dude, and today was no exception. He even deepthroats Adam's cock which surprised Adam a little and made him horny as hell. Adam's cock responded beautifully and got rock hard! Vander offered his giant cock to Adam to try to suck it but for the time being Adam declines such offers. We shall see how it pans out in the future.
Although he refused to suck Vander's cock he wanted to stroke it… Adam had to admit he was totally impressed how thick Vander's cock is!
Anyway, Adam is fantastic as a top – he definitely knows how to fuck and he fucked both Vander's face and his ass pretty hard. Not that Vander had any complaints about it – let me tell ya – he enjoyed every second of it as he really likes that kind of manhandling action from his active partners.
Adam fucked Vander is four positions, and in every one of them he really shines as a top – totally professional and doesn't waver at all. It seems that when Adam has some concrete "job" to do, such as to fuck somebody, he is very focused and doesn't let anything distract him from his work. Or he just simply enjoyed the ride and how it felt to penetrate Vander's ass.
Vander shot his load while lying on his back and with Adam's cock buried in his ass… then Adam follows suit and shoots first few squirts all over Vander, then quickly shoves his cock back into Vander's ass to breed him properly.
Preview video:
Click here to watch his entire video in HD quality at Chaosmen!
Chaosmen is a great porn site that features hot straight and bi men getting serviced or fucking their mates bareback for some cash. This site is exceptional and very unique because almost every single fucking is bareback and ends with a gorgeous internal cumshot or creampie.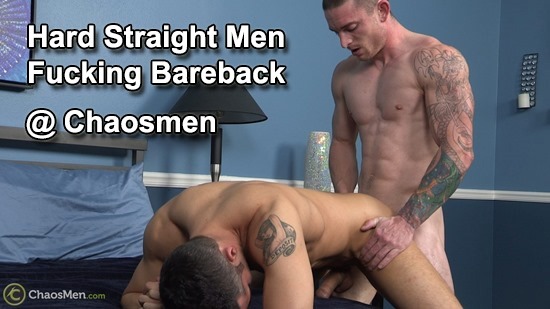 :Adam Cub, bareback fucking, beard, Breeding, creampie, fuck the cum out, gay for pay, handsome, huge cock, muscled, smile, straight men, thick cock, vander