A few months ago we saw Chase's first solo jerkoff scene, and Jason from Spunkworthy didn't miss the chance to offer Chase a massage scene for the next time.
Chase wasn't so sure about that, but he later decided firmly that he was going to do it. However, his work and his girlfriend preoccupied him so much that he could hardly slip away long enough to make it happen. But now he is finally here in Spunkworthy studio, and Jason's patience has paid off.
Here are Chase's basic stats: He is 26 years old, his height is 5'9", his weight is 160 lbs, his hair is brown and eyes hazel, he wears shoe size 9 and his cock is 7 inches long and cut. Chase identifies himself as straight.
Chase had never experienced any sexual contact with another guy before, and even while he was deployed to countries that are famous for their "massage services", he never used those. So this was going to be a double first time for Chase – both because he would get his cock blown by a guy, and because he had never got any massage like this.
While it is possible that one of the main motivational factors for Chase was money, judging by how stiff his cock when it flopped out once he peeled off his towel, it does seem that apart from obviously being horny, he might have been curious as well…
Jason starts off by rubbing down Chase's back, and his hands slowly but surely find their way to Chase's ass. Massaging their ass seems to be the trigger or tipping point for many straight guys, and Chase remained cool when Jason unexpectedly slid his hand between Chase's butt cheeks!
Since Chase didn't make a fuss about it, Jason decided to proceed with spreading Chase's ass and poured some massage oil to lube him up. Then he slipped a finger into Chase' very tight asshole. Chase's dick reacted instantly and became extra hard, and we can hear Chase making a loud gasp.
After some time Jason flipped Chase over, and his cock was totally ready and super hard! Jason had to be careful not to push Chase over the edge too soon, and instead just kept teasing him.
Jason slid another finger into Chase's ass and his cock reacted as if it was ready to explode any second. There's no denying that that point in his ass is Chase's magic button!
And as if that wasn't enough, Jason swallowed Chase's entire shaft… it seems that that was what pushed Chase over the edge. His breathing became deeper, his legs clenched up, and jizz drizzled from his dick landing on his pubes.
Preview video: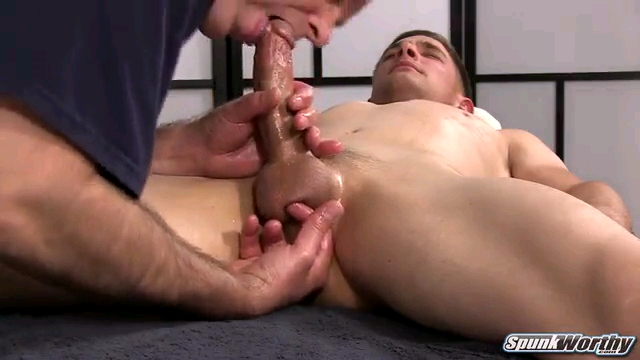 Click here to watch and download his entire video in HD quality at SpunkWorthy!
SpunkWorthy is a great porn site that features younger straight amateur dudes. Lots of truly straight military guys doing gay for pay only once or a few times! This site is usually the first and only place where you'll see these bad boys, so don't miss out!