This may be a little older scene but it's really hot. We have two horny straight boys: Kaden and Bastian. Kaden is the more experienced of the two and he wanted to show the ropes to Bastian. There's quite a bit of typical straight banter between these hot boys as they first watch some pussy porn on the monitor and then Kaden slowly takes things to the next level when he reaches for Bastian's cock.
Kaden has an amazingly well-built athletic body with big arms and muscular chest, and his cock is pretty impressive. Bastian is also well-built, although not so muscular like Kaden. It looked like Bastian was very nervous and unsure if he could do something like this with a guy, but Kaden really knew how to make him relaxed and things went very well indeed.
Bastian's cock is also really impressive – it's very stiff and pretty long. Actually both these boys have similar cocks, and they are both so yummy. After getting head from Kaden for a while, Bastian felt he needed to return the favor and he sucked Kaden's thick dick. You can see he is quite inexperienced and kinda awkward, but we're sure he will learn the skill in time!
The two boys exchange blowjobs several times throughout this friendly mutual jerkoff/blowjob experiment, and in the end Bastian shoots a big messy load all over his chest and neck. Kaden then sucks and licks Bastian's cock clean. We really enjoyed this refreshing blowjob scene with two hot and horny straight boys!
We made sure to include quite a bit of this blowjob in the EXTENDED PREVIEW VIDEO below, so if you like these BSB videos, you should definitely check out the entire video at their website.
EXTENDED PREVIEW VIDEO: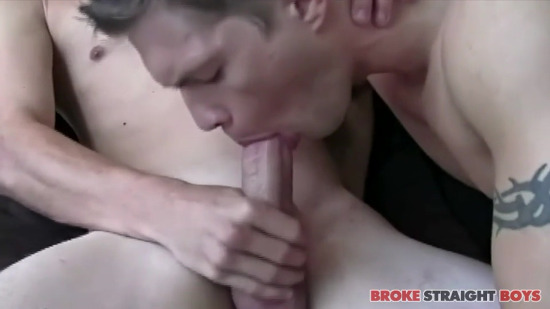 Click here to watch or download their entire videos in HD quality at Broke Straight Boys!
Broke Straight Boys is one of the classic straight boy sites that features hot straight and bisexual guys who are ready to sacrifice their hetero reputation and straight virgin ass and engage in some hot and nasty hardcore fucking. New movies have totally new guys which look awesome!