Leo Gotti is a superhot straight stud with chiseled muscular body and a gorgeous big thick dick to match. In the interview, which you can watch below, Leo tells us how he got into the porn business. Namely his best buddy and next-door neighbor is no other than Derek Jones! They've known each other for 21 years and went together in high school. Despite all this, Leo had no idea that Derek worked in the porn biz. When Leo said he was interested, Derek reached out to Gayhoopla and things went smoothly after that.
Leo's sex life has always been quite intense. He can't even count all the girls he fucked over the years… but since Derek showed him how to do his fan page, Leo started filming his own amateur content and things became really crazy. His sex life is now off the charts! In the interview below he describes his sexual past and how he's feeling before his first professional shoot for a major porn site.
Leo is 32 years old, he weighs 190 lbs (86 kg) and his height is 5'10" (178 cm). He is pretty serious about working out and has been going to the gym since forever. He tells us something about his turbulent sexual life, how he can't even remember when he lost virginity because he was so young he didn't know how to put on a condom! But since he started filming content with Derek Jones, they began to film orgies and things soon became pretty crazy and freaky!
In his first jerkoff session for Gayhoopla, Leo pulls out his ROCK hard cock out of his boxers and immediately starts stroking it. We hear some moaning, and you can tell that this guy knows how to pleasure himself slowly and passionately. Then he turns over and starts to thrust his hips as if he's fucking somebody, while his cock is rubbing across the sheets. And when you think things couldn't get any hotter, he turns around and begins to finger his ass! He obviously loves playing with his ass and takes his time to open up for the camera. Then he goes back to his cock stroking and after some time shoots a nice creamy load all over his chest and stomach. He licks it all up immediately… and tells us what the taste is like!
After the jerkoff session, he goes outside to wash the jizz off of himself. The day was pretty hot and sunny and you can see every little detail of Leo's body during his hot outdoor shower scene.
Preview videos: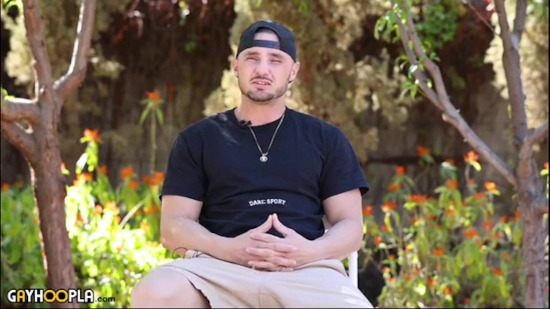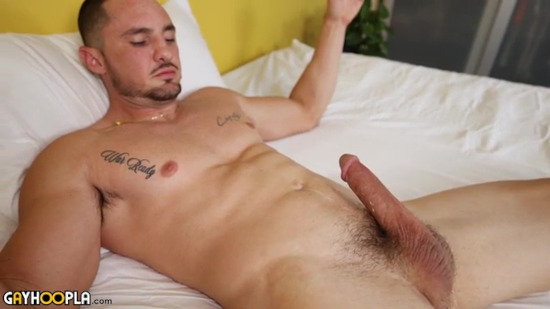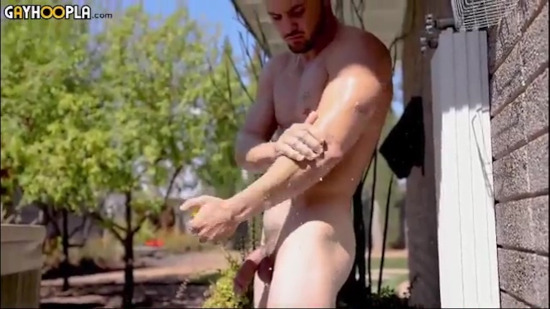 Click here to watch or download his entire video in HD quality at Gayhoopla.