by Ben Daniels (Admin) on Nov.16, 2014, under CMNM
It seems Rob has found himself in a difficult situation at his work, again. In order to please his superiors he had to strip down naked and let his pervy colleague Dave inspect his hot, hairy masculine body from head to toe.
Dave treats Rob as just another office boy, whose main job is to please and serve the senior employees. While Dave is playing with Rob's soft dick, the tactile sensations of Dave's inquiring hand quickly produce an effect – his cock gets rock hard within seconds. Rob didn't want this to happen, yet it did. Dave is happy to have awakened Rob's little friend and he cheerfully proceeds to play with it, pushing it all the way down with his hand and letting it return to its previous position, as of released from a spring.
As it's quite obvious, Rob is quite a hairy and manly lad, and having spent the entire morning in this building with all windows closed and hot stuffy air, he has released a lot of his musky manly sweat which was left absorbed onto his clothes. Dave also inspects Rob's sweaty clothes and Rob can't believe how he has been taken advantage of. However, the whole thing seems a little exciting, after all, and perhaps he might even get used to these weird checkups.
Check out these pervy men's wanton adventures in their whole videos in HD quality at CMNM.
Clothed Male / Naked Male (CMNM) is a superhot porn site where Nervous straight guys get stripped naked, groped and violated by fully clothed men.
There's nothing better than stripping straight lads completely nude, putting their bodies on display, and teaching them exactly how to submit! When they are in such a submissive position, one would be crazy not to use the opportunity and jerk them off!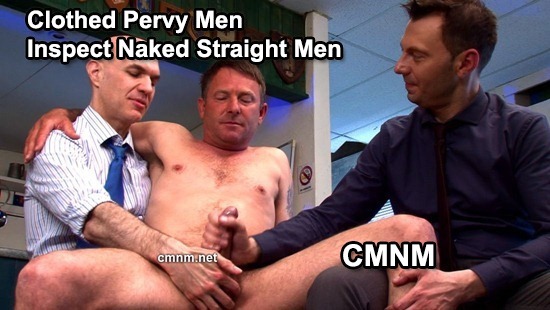 :hairy chest, hairy legs, handsome, inspected, Master Dave, Rob, sniffing cock, spontaneous erection, suit and tie, sweaty body