Xander is a real straight guy, and he has a girlfriend called Scarlett. You'd might think that a strong, muscular straight guy like Xander would never even think about putting anything up his precious ass, but there you'd be completely wrong! Xander discovered relatively recently that being penetrated by a dildo or a strap-on turns him on really well!
He proposed to his girlfriend that she put a strap-on and fuck his ass, but she wasn't sure she could do it properly, so they invited another girl who was more than happy to fuck Xander's ass. They were not sure it would turn out well, but it actually turned out amazingly well… as you can see, Xander was horny as fuck and his big stiff cock was so hard and continually dripping with precum…. it throbbed and begged that his ass got fucked even harder. I think what Xander really needs is a real cock, don't you think?
As a matter of fact, this first session was shot while Xander was waiting to do his first guy-on-guy shoot for another studio. So it was still his first dabbling into the uncharted territory of anal pleasures.
Some time after this first experiment, Xander and his girlfriend wanted to try this again, and they were a lot more confident this time round. Scarlett was not reluctant and wanted to fuck Xander's ass. Xander was exceptionally turned on by the whole thing, the notion of his girlfriend penetrating his ass and fucking him so blatantly… it caused his dick to get super-hard and ooze lots of precum!
The second video ends with Xander lying on his back and Scarlett fucking him in that position until he cums. And the cumshot was truly epic!
First session
Second session
Preview videos: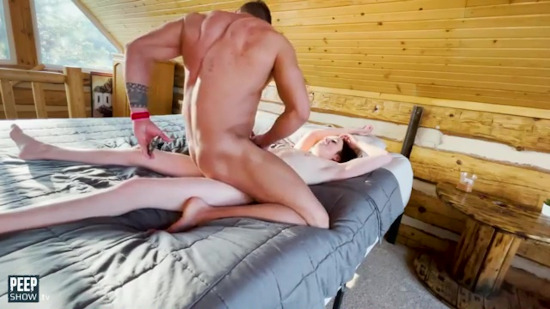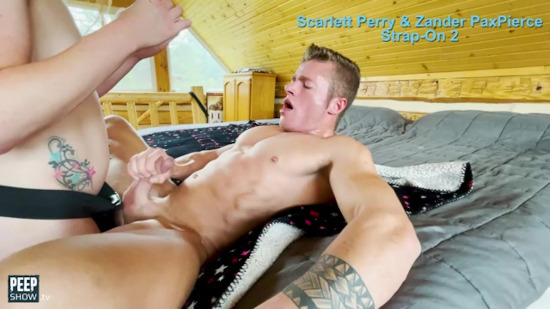 Click here to watch their entire videos in HD quality at Peepshow TV!