Today we're going to take a closer look at six hot guys: Craig Marks, Ellis Smith, Charles Collins, Ethan Williams, and Mitch Lee.
Here we have a real-life couple Craig Marks & Ellis Smith. These two studs are real-life partners and so they know each other very well. Craig is ripped, with a hot hairy body, whereas Ellis is athletic with strong defined muscles and handsome face. These two studs are truly made for each other! They wanted to show us a little bit of what they do in their private life, and for starters, they decided to show us how they get intimate, suck each other off and make out. Ellis goes to town and sucks Craig's big uncut dick… until it's throbbing hard. You gotta give it to Ellis, he's really good at deepthroating his partner's huge cock. Craig then returns the favor, and after a short time both guys have rock-hard erections. After some more jerking off, kissing and sucking, Craig can't hold it any longer and shoots a nice load, splattering his cum everywhere. Ellis was fast to catch most of it into his mouth, though! Ellis then shoots his load, which lands everywhere around him. Great job guys, and we hope to see you soon again!
It's so refreshing to see two real-life boyfriends going at it! Craig is the muscular stud – his chest is luxuriously adorned with big muscles and ripped abs. His tight little asshole looks inviting, and sure enough, his boyfriend Ellis loves to drill it with his big hard uncut cock whenever an opportunity presents itself!
The real-life couple first wrestle with one another, and then the clothes are soon discarded. There's some passionate blowjob exchange, and also some really serious deepthraoating. The guys also stroke each other's hard cocks, which is always a great spectacle to watch. Ellis relaxes Craig's tight asshole by kissing him passionately on the mouth, and then he shoves his huge hard cock deep inside that little tight hole and fucks him hard and good. Ellis uses the missionary position to fuck his boyfriend, but then he switches to the doggie position and fucks him this way, as well. Craig loves both and soon is close to cumming. Ellis finishes him off with a blow job, and Ellis then shoots his load in buckets!
*****
Ethan Williams is a hot muscular straight boy, and for this occasion, he was paired with ripped Charles Collins. What would two hot muscular straight lads do when they are put together? Well, you'd be surprised to hear that they actually have a lot in common. Even before the shooting of the video started, these two lads started exchanging the videos of themselves having sex with their girlfriends. One thing leads to another, and before you know it, these lads' cocks were rock hard! And not only were they hard, but these guys were horny for each other and started to stroke each others' cocks. This is Ethan's big first time because he had never done anything like that before. Well, as the saying goes, there's a first time for everything. Charles was really horny, as evidenced by the profusion of his precum coming out of his cock. Soon enough, Charles shoots his load all over Ethan's hand. Englishlads director Nick Baker jumps in and starts to stroke Ethan's cock until Ethan shoots his load of jizz all over Nick's hands. Then both straight boys have a hot shower together, which is also a special treat to watch!
*****
Mitch Lee is an old friend of ours. This hot little straight hunk decided to experiment some more with dildos. And, damn, what a show he has put on! Mitch starts off with lying on a sofa where he soon gets rock hard. He has a dildo carrying in his hand and he sucks it with his mouth until it's ready to be inserted into his asshole. He bends over and pushes his fingers into his asshole, then shoves the didlo up his his arse! And the anal beads go inside as well! Damn! That was fucking great, Mitch!
Mitch wants to impress us a little further, and so he takes a giant blue dildo, which was admittedly a really big step to surmount, but eventually he managed to do it! Mitch's cock was fully erect when that huge blue dildo finally penetrated his straight ass. His legs tighten as he is coming close to the point of no return… and after a few more moments Mitch shoots his load all over the place!
Craig Marks & Ellis Smith
Ethan Williams & Charles Collins
Mitch Lee
Preview videos: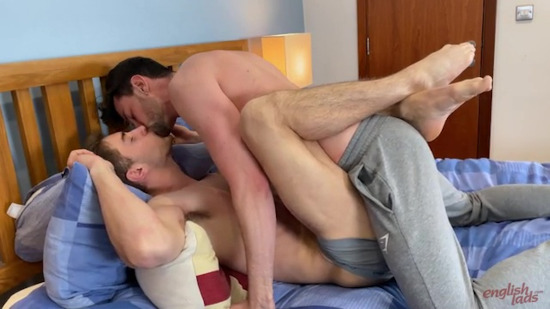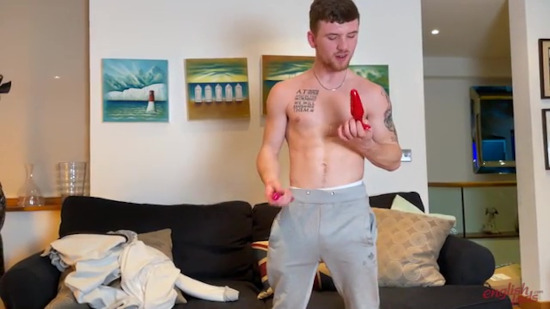 Click here to download their entire videos in perfect HD quality at EnglishLads!
English Lads is a fantastic site with loads of very manly, straight lads from England who love to show off and jerk off for the camera.  The guys that appear here are usually not found on any other site, so the content is quite exclusive. All movies are in HD quality.