Alexander is a hot Latino hunk and an always welcome guest at the Beefcakehunter studio. And since Alexander's birthday was fast approaching, Victor asked him to drop by his headquarters so that they could arrange a proper birthday party! As you can see from glancing through the pictures, Victor had lots of fun with "blowing Alexander's candle"!
On that day Alexander had to go to work as usual, so Victor had to await him for quite a while. With such a hung hunk like Alexander, any kind of wait is worth it, so Victor just wanted to relax with a bottle of wine. When Alexander arrived, he wanted to open the bottle of wine, but something went wrong and he couldn't. It might be because he hasn't much experience with opening wine bottles because his favorite drink is beer. However, that evening most definitely called for a bottle of wine.
It looks like Alexander was very thirsty because he drank one whole glass of wine in one sip. Soon enough, Alexander was fully charged and ready to play!
Victor starts off by touching Alexander's big bulge through his pants and underwear. This produced almost immediate results, and you can tell that Alexander's massive cock sorely needed some expert cocksucker to take care of its legitimate needs! Victor alternates between worshiping Alexander's balls and his cock. He took his time and it turned out that this was a pretty long oral session. But how else could it be when you have such a handsome, hung dude in front of yourself?
After a rather comprehensive blowjob session, Victor decides it's time to ride that cock. And damn, check out how great that ride was! Victor almost lost his mind while jumping up and down on that massive dick! But after some time the guys moved to the bedroom. There, Victor lied down on bed and let Alexander do whatever he wanted with his eager ass!
Victor thought that Alexander could jizz while fucking him in the missionary position, but then in the last moment he changed his mind and lied down to his side, and using his mouth, tongue and hands he made Alexander shoot his load.
Preview video: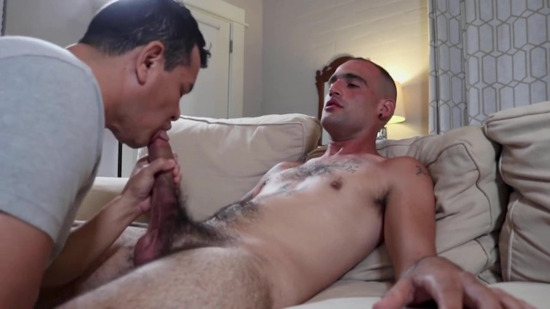 Click here to watch or download their entire video in HD quality at BeefCakeHunter.