We interviewed Martin awhile back and at that time he was wearing a sweater and some rather tight jeans…So we knew he had a tight ass, but we weren't expecting the slightly hairy chest and muscular definition.
It doesn't take him too long to ditch his clothes and start beating his meat for the camera. He's a classic exhibitionist and doesn't mind the crazy directions we give him…"sit there"; "put your leg there"; "hang from there while your dick is hard"; "walk there"; "don't touch your dick"; "OK, now touch your dick".
What I wanted to say was "suck my dick and then spread your legs", but I maintained my professionalism.
Short preview video: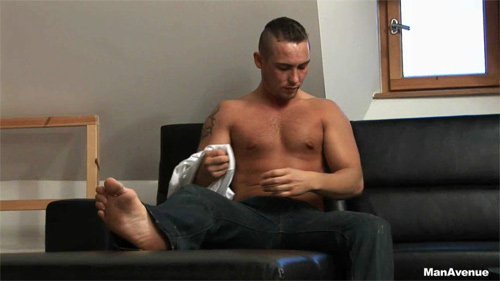 Click here to watch this his entire video in perfect HD picture quality at Manavenue!
Manavenue is a fantastic porn site that has tons and tons of very hot, masculine (mostly) straight guys who pose nude, jerk off or even fuck each other (if the money is right). These are the type of straight dudes we see in the street and then fantasize about them while we jerk off like mad in our home.