Apolo Adri has just caught "gym fever" and he's determined to get to the next level in his muscle development. He finds a new fitness trainer played by Alan Vicenzo. The guys start talking but are interrupted by Alan's client Jorge Leal. Alan leaves the room and Apolo is strangely attracted to Alan's gym bag because of its overpowering man scent. There he finds Alan's sweaty underwear and starts sniffing and getting turned on by it. Suddenly, Alan is back into the room and catches Apolo enjoying his sweaty underwear. Alan is cool about it and just tells Apolo that he would be able to enjoy much more of that if he works out hard and sticks to his program. The guys are already horny for each other, however, and there's no doubt that this heat and sexual thirst must be quenched somehow… so they begin to strip each other and kiss passionately.
Both guys are turned on by each other's hard bulging muscles, but when they see each other's hard cocks that's the point from which there's no coming back! Apolo is now all over Alan's hard dick and begins to service it as every good trainee should. It's time now to return the favor, and Alan gets on his knees while Apolo kicks back on the sofa to enjoy the blowjob. Nothing better than finding a hot, sexy and muscular personal trainer with a big hard dick who can satisfy all your carnal passions. Alan is thoroughly enjoying Apolo's long fat cock. It's time to swap positions again, and now Apolo buries his face into Alan's fantastic inviting muscular ass.
Apolo loves to munch on that muscular ass and he keeps inserting his tongue into that eager fuckable asshole as well. Apolo stands up and shoves his long, fat and raw cock deep inside this personal trainer's ass. It doesn't take him long to build a steady and incessant fuck rhythm and soon enough Alan is enjoying getting his ass pummeled really hard. The guys change positions again and now Alan demonstrates to Apolo how to do proper squats by impaling his ass on Apolo's pulsating cock.
Alan is enjoying the ride on Apolo's great hard dick, and it drives him crazy when his smooth balls are being scratched and tickled by Apolo's pubes. Apolo flips Alan onto his back so that he can provide a more steady onslaught of his invading cock into Alan's ass. It's rather obvious that now the only thing that Apolo's ass craves is a hot load of fresh jizz. Sure enough, that's exactly what Apolo intends to give Alan, especially because Alan's muscular ass keeps driving him crazy with desire to fuck and inject his seed. Apolo sticks his cock once again into Alan's hole and dumps his load deep inside. Soon after that Alan also shoots his load all over his massive thighs. Well, is this how you pay your fitness coach for a satisfying training session?
Preview video: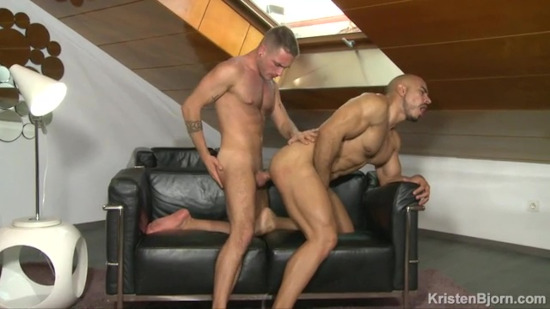 Click here to watch their entire video in HD quality at Kristen Bjorn!