Although the sleazy punter has paid these two skinheads to treat him like a bag of garbage and abuse him, he didn't know that they would be so brutal and inconsiderate towards him. Master Derek and Toby are treating him like the lowest sub on the planet and tag team fuck him all night long.
The Masters' cocks are stiff hard all the time and they relentlessly train and beat the poor sub. The sub is crying like a little girl, his both eyes bloodshot, but that doesn't deter Masters from shoving their hard dicks up his throat and asshole.
Finally, when the Masters think it's time to dump their loads, they shove their dicks once again and fill up the punter. The poor sub must make sure that none of the Masters' sperm is lost, he has to eat it up all.
Preview video: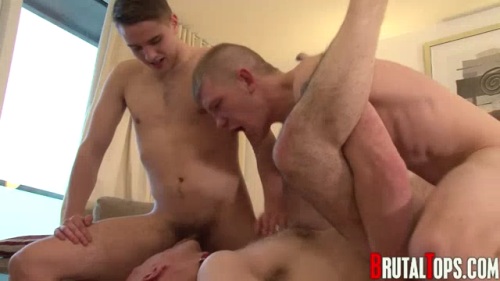 Download this one and many other horny new BDSM videos at BrutalTops!
Brutal Tops is a fantastic site for lovers of the most ferocious sexually aggressive doms in the world. These dominant men love to give orders which have to be obeyed!