Nick was convicted of robbery and found himself in the jail. He is a rough, muscular dude who likes to work out every time he gets a chance. When submissive guy called James was put with Nick in the same cell, that was probably the best thing that ever happened to him because Nick has not spared him once, and James obviously likes his submissive position.
Nick works out a good sweat by doing press-ups, dips and pull-ups. But James has to lick and service Nick's ass, cock and pits if he doesn't want to get beaten. This sub is really willing to offer everything he has in order to please his master. The slutty sub puts copious amounts of his spit onto Nick's cock in order to ensure proper lubrication while he services him.
After the workout Nick's whole body is covered with sweat, and he orders his little slave james to lick his entire torso and chest with his tongue. Armpits deserve special attention as they are the most sweaty and musky part of Nick's gorgeous masculine body.
James thought that one couldn't get more humiliated than this, but just at that moment Master Guy comes along and joins Master Nick. Namely, Master Guy is in the cell nearby and often comes by to chat with his buddy Nick. However, this time poor James will have to lick and service his hairy body as well, before the cruel masters dismiss the fucker.
Preview video: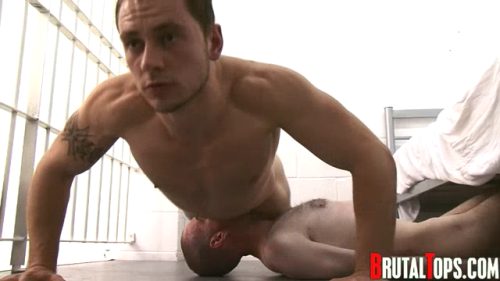 Download this one and many other horny new BDSM videos at BrutalTops!
Brutal Tops is a fantastic site for lovers of the most ferocious sexually aggressive doms in the world. These dominant men love to give orders which have to be obeyed!