Handsome fitness instructor Cédric wanted to see his videos and so he announced his arrival to the Keumgay studios. As luck would have it, Marc, the handsome big-dicked insurer, also wanted to see his videos before they were published and announced his arriaval at the same time as Cédric. The Keumgay director had no other choice but to accept both guys at the same time.
When Cédric arrived, the Keumgay director told him that they could do a redo of a shoot that they had already done previously. Namely, the hot massage video that they did some time ago was so popular with the surfers that the director thought that another massage video with Cédric would be just fine. However, things didn't go as planned. As soon as Cédric saw Marc, he was turned on and wanted to do a shoot with him.
Marc allowed Cédric to fondle his genitals and body, and accepted Cédric as a kind of assistant. Meanwhile, the cameraman was busy with taking off Marc's clothes. Marc suddenly realized that he was participating in a shoot that he didn't see it coming.
Although this was supposed to be a solo shoot with Cédric, it soon became a duo with Marc who became the dude whose body and amazing big stiff cock were worshiped. Cédric was really into Marc, and you can tell that Marc was equally excited because his cock was also already super-stiff even before Cédric took off his t-shirt.
Once Marc was left shirtless and his cock fully erect, Cédric was all over his cock and started to suck him with gusto! The director admits that he had secretly wished that these two guys would come together and do a mutual scene. Marc starts to fondle the camera assistant while Cédric is sucking his cock. This whole situation escaladed quite a lot, and you will have the opportunity to see what exactly happened in another special video that is about to be released soon. In short, Marc was so turned on by this whole situation that unplanned things started happening.
Marc and Cédric were so much into each other, and their chemistry was so strong that they often kissed each other during the shoot. You can't stage something like that, it really looks genuine and natural. Marc wanted to prove his worth by grabbing Cédric's hard cock and sucking him with gusto!
Everything that was happening exceeded the director's expectations. Marc asked Cédric to lie on his stomach so he could place his huge erect cock on Cédric's inviting buttocks. The director sensed that this entire situation could go out of hand easily, because he was worried that the guys might just go on with their thing without caring much about the camera. And while this might have worked in some other situation, the director was sure that he didn't want it to happen just at that moment. But one can only imagine how hot it would be to see Marc's amazing huge dick penetrating Cédric's supertight straight asshole!
The director was basically worried that the two guys would just go on with their fuck session, and he didn't want that to happen just yet. The sensuality of their encounter was so strong that it stands on its own. Furthermore, Cédric didn't have enough time to properly prepare for the anal penetration, so the director thought that stopping the entire thing at that point would be the correct thing to do.
As any manly man, Marc was turned on and just wanted to plant his big hard cock into Cédric's tight hole. But this softcore ending is much better, in our opinion, because what is important is your pleasure as a viewer.
This new video that has just been released shows some previously unreleased footage from this hot session. Both guys have amazing hard cocks, and it's a treat to see them erect and standing side by side!
Preview video: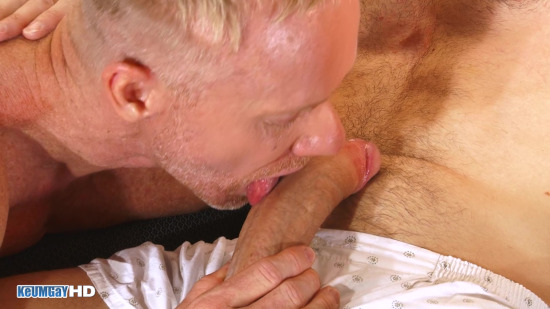 Click here to watch or download their entire video in HD quality at Keumgay.