by Ben Daniels (Admin) on Apr.08, 2016, under CMNM
Leonardo is a very famous Italian footballer who plays for Mancastle United. Although he's been in the media spotlight for years, he always strives to keep his life completely private and is very protective of his hot masculine body.
When he signed up the contract with Mancastle United, it was clear it would bring in a lot of money, but Leonardo made one big mistake: he forgot to read the small print! In it, it says that the Mancastle United owners are allowed to conduct frequent physical exams of their players, including those tests that might seem positively odd to someone. For instance, today Dr Perhsing insisted that Leondardo take off his shorts and show the doctors his willy and balls. Not only that… the handsome Italian is made to withstand the humiliating procedure where the pervy doctors take his urine sample and examine his soft cock.
Something tells me that the next stage will be a sperm sample, and that Leondardo – again – won't be able to say no to his pervy doctors…
Check out these pervy men's wanton adventures in their whole videos in HD quality at CMNM.
Clothed Male / Naked Male (CMNM) is a superhot porn site where Nervous straight guys get stripped naked, groped and violated by fully clothed men.
There's nothing better than stripping straight lads completely nude, putting their bodies on display, and teaching them exactly how to submit! When they are in such a submissive position, one would be crazy not to use the opportunity and jerk them off!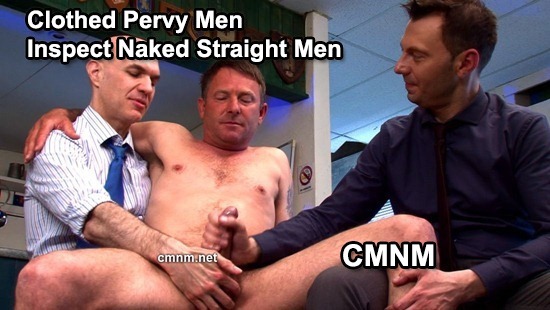 :beard, Clothed Men, doctors, examined, footballer, handsome, Leondardo, masculine men, naked men, pervy men, urine sample