Today we're going to take a closer look at two bonus videos of two hot straight guys from France: banker Marc and fitness coach Cedric.
We've already seen 28-year-old banker Marc on several occasions. But the director has found some bonus footage for which he thought it would be a shame not to share it with us. Marc and the Keumgay director met for the first time when the director was in a bank and was having issues with his credit card and the ATM machine. It didn't want to come out of the machine because he had forgotten to enter the proper key phrase.
Marc was quick to offer his assistance, and the problem was solved in no time. Seeing such a hot, muscular straight hunk, the Keumgay director got horny and immediately suggested to Marc that he make some massage videos for their site. He explained everything in a pretty straightforward manner, because that's the best approach to these new potential candidates… the director has only 2 rules he abides by: 1) he proposes the massage job only to those men who don't live near his place of residence, and 2) he will approach them only if they are alone.
Marc seemed to be interested in this kind of work, and he added that he actually already had done some similar photos with a little help of a friend of his. He put up those photos on his Facebook page. The director quickly realized that Marc was totally down for it, and immediately offered him a filmed massage job just after the usual photo shoot. Marc wanted to first see Keumgay's previous work, so that he could see what that all was about and what he was getting himself into.
It seems that Marc had thought that that was some much more artistic and professional fashion kind of work, and when he saw that the Keumgay director often offered his helping hand to the filmed guys, he lost all interest in making the video for them. You can see the camera runs for about 10 minutes, and Marc keeps repeating he is ok with the massage, but he persistently refuses to get naked!
A little bit of friendly persuasion can go a long way when dealing with these stubborn straight men, and the Keumgay director knows how to do it. The director unbuttoned Marc's shirt and went for Marc's cock, but Marc protested several times, so that's why you can see the film having been edited here and there.
The director thought that this chance was permanently ruined, but he continued to caress Marc's hot muscular body anyway. Marc became more relaxed as time went by, and eventually, he relented. It wasn't easy, and Marc kept refusing to cooperate, but as soon as his cock got super hard, things went much more smoothly!
Marc's dick is totally beautiful, a real work of art – check that out. It's no wonder that the Keumgay director couldn't resist stroking that cock despite Marc's numerous objections. At one point, he blocked the director's hand and said he would continue to stroke his cock by himself.
This bonus video contains previously unseen footage, with additional sequences where we get to see more of Marc's big thick stick. It offers a more natural appraisal of this jerkoff and massage video than the original, short version. There's something amusing and hot in watching a real straight guy who is at first completely reluctant, but eventually gives in to the intense pleasure.
*****
We have already seen fitness coach Cedric relatively recently as well (check out his previous appearances here, here and here). We won't go into the details on how the Keumgay director and Cedric met, as this was already explained in the previous posts. But for this occasion, it's important to mention that it contains some additional footage of Cedric getting wanked and massaged in the shower. And then there are also some additional scenes outside the shower. We hope you'll enjoy this hot video!
Fitness coach Cedric
Preview videos: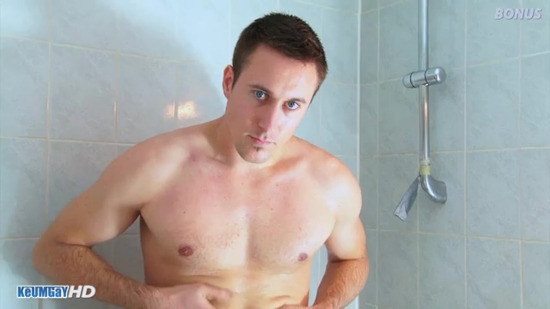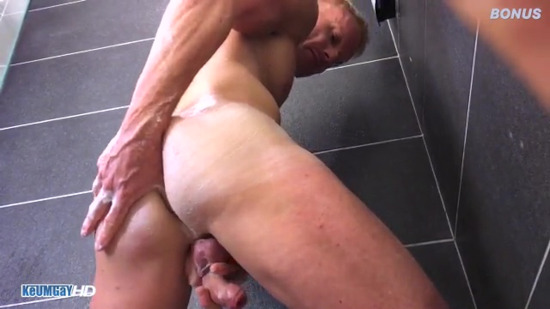 Click here to watch or download their entire video in HD quality at Keumgay.