Tory is a little firecracker of a sexy young straight guy. He is only 21 years old and currently serves in the military. He now resides in San Diego, which is where Jason from Spunkworthy met him in the first place through a mutual buddy who had already done some shoots for another porn site in Hawaii. Tory was a little desperate for some easy cash, and thus ended up on the Spunkworthy casting couch!
Although Tory always maintained in his phone conversations with Jason that he's mostly into girls, he mentioned a few times that he's been feeling a little adventurous lately and started to also explore things with guys. But this experimentation is obviously at the very beginning stages, because Tory was concerned that he wouldn't even be able to get his cock hard if it's handled by another guy.
This fear was totally unfounded, as evidenced by a big tent he's pitching behind his jeans even before it was time to take them off! And his cock remained rock-hard throughout the entire shoot, so much so actually that Jason decided to make some "outtake-y" moments as well, because it would be a pity to not use that extreme horniness and solid rock-hard cock. Even Tory was a little surprised how much his cock loved the attention of the camera.
So we have here a young, masculine, horny, flirtatious and rock-hard military guy who has never done anything like this before, and yet he is flaunting his hard cock straight into the camera. Of course, there was no way that Jason would miss the opportunity to test and sample the goods. He reached out with his hand to provide a much needed rub and squeeze for Tory's cock, and Tory didn't flinch. Actually, he just raised his arms up behind his head and started to enjoy the ride. There was a small drop of pre-cum oozing out of his cock, proving once again that this horny boy was indeed enjoying this experiment.
Tory shows off his hot muscular runner's ass (and he even let Jason cop a few feels with him bent over). Jason took the initiative and, after lubing up his hands he went straight for Tory's dick. Tory didn't jerk off that morning when the shoot was supposed to be made, which is not too long, but for someone who jacks off 3-4 times a day, it was enough. When he approached the point of no return, Tory's entire body tightened and twitched. Jason then pushed his finger straight into Tory's virgin hole and quickly found the magic button. That was enough to propel Tory straight over the edge and within a few seconds he started to shoot his cum!
Tory's height is 5'8" (173 cm) and he weighs in at 140 lbs (64 kg). His hair and eyes are brown, and he wears shoe size 9. His cock is 6" (15 cm) long and he identifies himsel as bi-curious.
Preview video: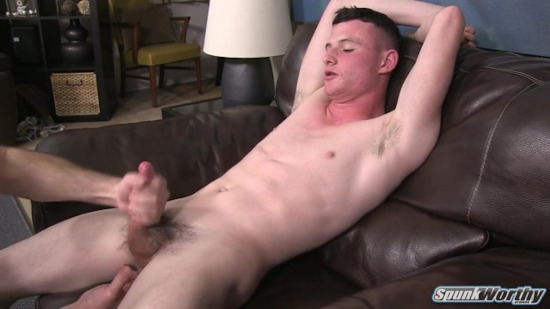 Click here to watch and download his entire video in HD quality at SpunkWorthy!
SpunkWorthy is a great porn site that features younger straight amateur dudes. Lots of truly straight military guys doing gay for pay only once or a few times! This site is usually the first and only place where you'll see these bad boys, so don't miss out!