by Ben Daniels (Admin) on May.05, 2019, under CumClub
Trace is a hot 25-year-old straight hunk. He has a nice sexy beard, beefy body and a quirky sense of humor. And let's not forget his awesome big uncut cock! Just check out that beauty, standing upright and proud! He dropped by Aaron and French's place to fuck some ass, and of course, Aaron was all too happy to help.
Trace fucks Aaron with a condom because he's currently in a relationship with a "gal" (as he put it), and that was what they agreed upon, which is fine with Aaron and Seth. However, the site is called Cumclub and that means the cumshot is really important and what is done with it. So, Trace was asked to shoot his load straight into Aaron's cum-hungry mouth. Aaron doesn't mind if his ass or mouth receives the guy's jizz, as long as the cum is inside him it's all good.
As soon as Aaron saw Trace he knew he wanted to have his cock and cum inside him. And he wanted it as soon as possible! So, after a relatively brief chat with Trace, and he tells us that he's usually with women, but that "sometimes you feel like a nut", and you want to get off with guys. Which is perfectly understandable!
Aaron begins by removing Trace's pants and swallowing his thick uncut dick right away. Trace's cock gets hard very quickly, and then it wants to fuck some hole, pronto! Aaron soon reveals his naked butt, and lets Trace invade his nether quarters. When he penetrates Aaron, he keeps fucking him like a little rabbit, fast and furious! Trace lays down on top of Aaron and just keeps pumping his ass. Trace loves the sight of his big cock going inside and out of Aaron's tight ass, and both guys moan and groan from pleasure.
Trace gets so sweaty that his sweat is dripping all over the place! He increases the pace at which he fucks Aaron, shoving his cock ever deeper into Aaron's ass with every single thrust. While fucking Aaron doggy style, he approaches the point of no return and asks Aaron if he is ready to receive his load. Aaron actually craves cum so much that he could hardly wait for that question.. and so as soon as Aaron opens his mouth, Trace pulls out of his ass and lets Aaron take his cum.
He shoots a nice load of warm jizz straight into Aaron's mouth, and it wasn't just one or two squirts but many! They just keep coming and coming, damn! Actually cum kept dripping out of his dick for about 2 minutes! Aaron of course swallows every little last drop of the precious liquid. Seth, who was holding the camera, had an inkling that there was more cum to be squeezed out, and indeed, that proved to be true. More white droplets appeared out of Trace's cockhead, which were promptly devoured by Aaron's insatiable mouth.
Preview video:
Click here to watch or download their entire video in HD quality from CumClub!
Cumclub is a brand new site from the same guys who used to make sites such as Suckoffguys and Barebackplace. Now they are back with brand new site Cumclub and they will continue to showcase their blowjob and cum-related adventures as they travel all around the country.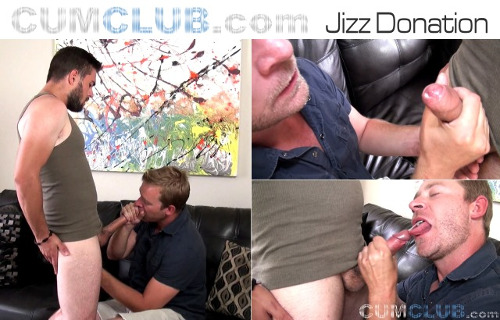 :Aaron French, big dicks, bisexual men, blowjob, cum eating, fucking, hairy chest, handsome, sucking off, Trace, uncut cocks