Victor got really lucky that day. Beefcake Justin, whom he hadn't seen since last Christmas, was working in the vicinity of his studio and decided to drop by for a short visit during the lunch break and have a good fuck session with his old buddy Victor.
Justin actually usually works at a location which is quite far away from Victor's studio, so the two guys decided to get the most out of this impromptu meeting.
You can tell that Justin was really in need of a refreshment break. Holding a beer in his hand, he rang the bell on Victor's door. True to his vow and commitment to always be ready to service strong beefy straight men, Victor fell on his knees and immediately started to worship Justin's big balls and big cock.
Beefcake Justin is always humble and unpretentious, but he's confident enough to let us know how he feels whenever he comes to the BeefcakeHunter studio.
During the first part of this Lunch Break Sex with beefcake Justin, Victor was totally devoted to worshiping Justin's king-size balls and massive hard cock. He was also all over Justin's  manly, hairy legs. Judging by his face expressions, Justin really enjoyed getting this Royal treatment.
Then the guys moved to the couch. Victor expressed his admiration for Justin's sexy hairy belly by kissing him there a few times. Then he put a condom on Justin's hard dick, and lay on his stomach. Victor says that he is increasingly fond of that position because first it feels great, and second because when Beefcakes fuck his ass, in that position their face is close to Victor's neck, and so they will often kiss him on the neck… which happens to be one of the most erogenous parts of his body.
For this shoot, Victor positioned one of the cameras to record their mirror reflection, so that we can watch as Justin pounds Victor's ass from behind – we can see Justin's muscular back and his big balls slapping against Victor's butt.
Victor then lies on his side, to enable Justin to fuck his ass ftom a different angle. And in this view we can better see Justin's big hard dick coming in and out of Victor's tight hole. Justin really did nail that ass pretty hard!
Preview video: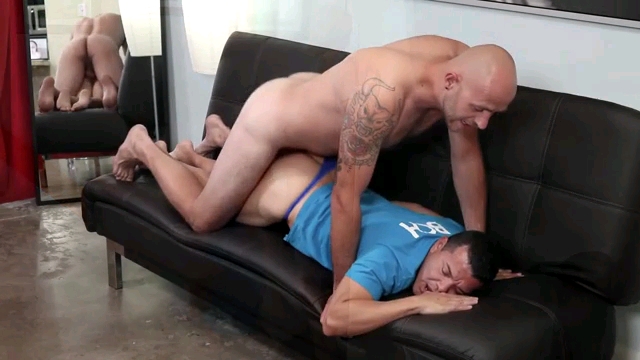 Click here to watch or download their entire video in HD quality at BeefCakeHunter.