This arrangement had been planned for a long time, but due to the complexities involved, it took some time to get realized. Victor wanted to service and get fucked by two of the legends from his site – Beefcake Justin and Beefcake Christian.
It was a hot summer afternoon. Beefcake Justin was the first to arrive. He was hungry as hell when he came and needed to get something into his stomach first. Then he took a shower. Perhaps that's why he looks so self-satisfied and comfortable at the very beginning of the scene.
On the other hand, we have Beefcake Christian. He was pretty reluctant to do any kind of three-way scene, but eventually he agreed. He was a bit late to the shooting, and Victor assumed it was because Christian was having second thoughts about the whole thing, but eventually he did arrive.
Both guys are pretty easy-going and Victor always feels at home with both of them. Naturally, the first thing that Victor wanted to do when faced with these two straight studs was to get on his knees and to suck their cocks! Both straight guys were a little surprised at how big their cocks were, as well as how horny and ready they both were at that moment in time. Check out their facial expressions, they tell the whole story! Christian definitely has that "what the fuck?" face expression at one moment.
Victor is a great cocksucker, and for this occasion he was determined to give his best effort! He was faced with two demanding straight cocks, which both badly needed a professional cocksucker. It was pretty evident that these two men chronically lacked someone to suck their cock and empty their balls on a consistent and regular basis. Thankfully, Victor was there for them now.
Victor knows when it's time to offer his ass to his straight buddies, and this was the moment, obviously. So he gets on his all fours in the middle of the room and Christian was the first to penetrate his ass. Christian's cock looked more than ready for the job, and meanwhile Victor was still blowing Justin's cock. The two straight guys alternated several times and they both pounded Victor's ass and mouth. Both straight guys got the same amount of time to fill Victor's both holes, but at the same time we have to notice that there were moments of undivided attention, when all focus was on what one of these guys was doing.
To finish things off in a grand style, Victor decided to get back on his knees and stroke both guys' cocks at the same time. Christian was the first one to shoot his load, and it was a pretty big load, which splattered all over Victor's surprised face! Christian then took the camera and continued to record how Justin would shoot his load over Victor's face. It took Justin about one minute to get to the magic point, and when he did, he shot an even bigger load than Christian which totally covered Victor's face! Talk about good delivery… damn! You can tell how happy Victor was by his face expression in the end!
Preview video: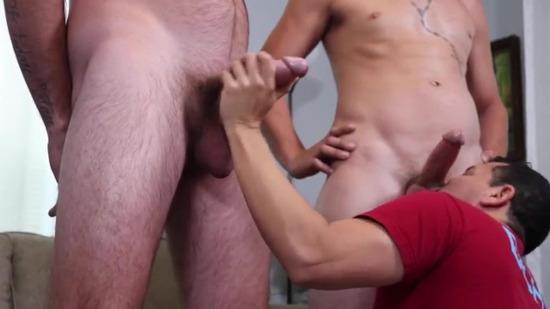 Click here to watch or download their entire video in HD quality at BeefCakeHunter.