Justyn is a handsome young straight guy, and a complete novice when it comes to porn. He has a sexy, fit and beefy body that is full of energy. He is filled with enthusiasm and excitement because he hopes to make a lot of money by becoming a real porn star.
Justyn spends almost all of his spare time either in the gym pumping iron or playing football with his buddies. Since he and his football mates often get naked in the locker room, Justyn had already become used to being naked in front of other men, so when the casting director told him to take off his clothes, Justyn didn't feel uneasy about it.
However, when the casting director wanted to closely inspect his cock and arsehole, Justyn thought that that was just funny. Since Justyn is totally determined to become a famous porn star, we think this was a great opportunity to take a closer look at this hot straight young man and be the first studio to catch him totally naked and stroking his cock in front of the camera.
Although he may at the first glance appear as a mild-mannered and friendly guy, Justyn is quite ambitious and his biggest wish is to become rich and famous and move into the city.
So, for him, this audition is just one necessary step that he knows he has to make in order to make his dreams come true. He is aware of the fact that in order to become a real porn star he will have to work hard, but he has already made it clear that there will be some limits when it comes to the things that he is willing to do sexually. Nevertheless, the casting director was all too happy to have this young stud buck naked and on his knees!
Justin has one of the most charming and sexy smiles we've ever seen. It was great fun to watch him grinning bashfully while showing off his hot beefy body for the camera. We definitely love seeing his hot muscular butt, which he had no problem showing off. The casting director wanted to make sure that Justyn's legs were sufficiently spread apart so as to allow capturing on film the temptying line of dark hair which runs down his butt crack, as well as that super tight hole which had been hidden from everybody until this moment.
It seems that the environment in which Justyn found himself – a cold empty room and an unknown man sitting in the director's chair – was something that this young stud wasn't accustomed to. So he tried to block out the casting director as much as he could while he was getting his cock hard.
But as soon as his cock was up and running, Justyn was totally focused only on stroking it, and after some time he shot an impressive load, spraying his jizz all across the floor!
Preview video: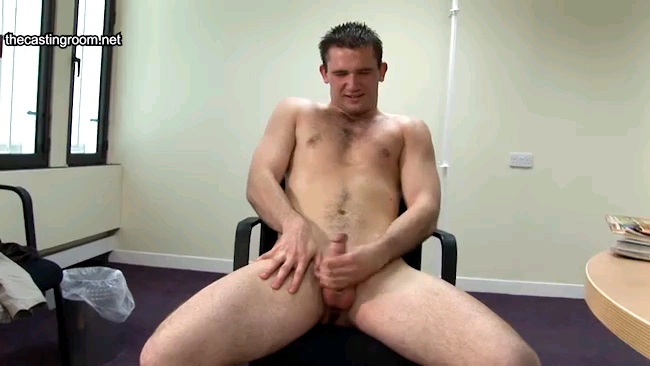 Click here to watch his entire video in HD quality at The Casting Room!
The Casting Room (formerly known as First Auditions) is a great, original porn site that showcases young, cocky straight men who would like to become porn stars and make loads of cash. They think that they'll be accepted right away and be able to fuck lots of girls, but they don't know that our casting director is very strict and wants to fully inspect them during the audition. He orders them to get fully naked, show their ass, and jerk off so that we can clearly see the cumshot. Plus, we get to hear all their fetishes and what turns them on.