Victor from Beefcake Hunter thought that it would be a perfect match to combine Beefcake Cory with the New Year and the whole atmosphere around it. Cory's already trademark tanned body was a perfect match with the bedroom, so Victor took Corey on a tour around with his camera before lying down next to him.
Cory's hard muscular chest and nipples were too much of a temptation for Victor. He couldn't resist but to stroke and kiss and worship that hard chest while at the same time stroking Cory's cock. This time round, Victor skipped Cory's balls and went straight to his hard dick. Victor's cocksucking skills are quite impressive, so it's no wonder that he brought Victor almost to the point of no return!!
Victor proceeded to worship some more of of Cory's chest, nipples and belly, and then he devoted his full attention to those amazing muscular hairy legs! There is no denying that Victor is a total sucker when ir comes to hairy muscular legs and we can definitely relate to that!
Cory's big muscular arms are no less sexy, so Victor proceeds to worship his arm hand and fingers. It seems that all this body worship had a profound effect on Cory's cock, because by that time it it was so hard and screaming for attention. Victor finally had to devote his full attention to that hard dick.
Perhaps the only thing that was kind of missing in all this with beefcake Cory was the fact that Cory hadn't been rimmed properly. Cory said that he had experienced rimming with some girls previously, but Victor was determined to show him how is properly done. That virginal cherry really deserved to be shown to the world.
One of the things that Victor wanted to try during this meeting with Cory was to get fucked missionary style. And Cory definitely didn't disappoint in this regard, because he went with a lot of his energy and fucked Victor deep inside his man pussy, while at the same time he kepr smiling at the camera. Needless to say, Victor was on the 7th heaven, enjoying the pounding immensely, but at the same time he had to keep checking out if the camera was at the right angle. It was a that moment that Victor discovered Cory had already come in his condom.
This obviously required a change in the sex position, so Victor decided to go doggy. Cory fucked him quite deep but softly, perhaps in order to avoid cumming too soon. Then he asked Victor for the permission to cum, and when Victor gave him the green light he did shoot his load into his condom. We hope you are going to enjoy this hot new scene with beefcake Cory.
Preview video: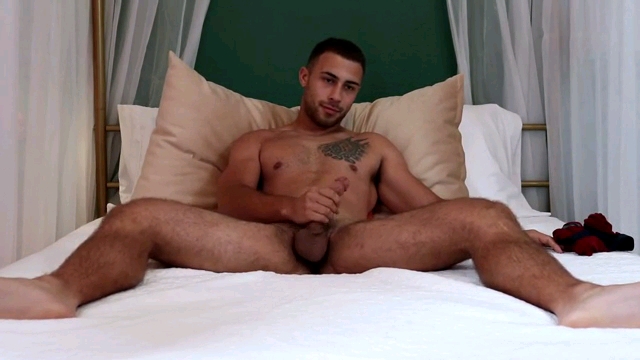 Click here to watch or download their entire video in HD quality at BeefCakeHunter.