For those of us who have been following the rise of hot Beefcake Cory to the top of the porn stardom, this video offers relatively little amount of new things, but it's still worth watching because it reveals some new aspects which let us get to know the man more intimately. So now it is official – Cory is the Beefcake of 2011!
Victor knew that this would be something special, both for Cory and for the viewers, so he asked Cory to cut his hair really short and come with a slightly different look. And whatdoyaknow! This hunk really looks sexy as hell with a really short hair! Most of Cory's fans took notice of the fact that Cory was a lifeguard, but very few registered that he was also an avid bike enthusiast. Victor managed to get some exclusive shots of Cory's bike, and Cory with his helmet standing next to his bike.
In the beginning of the video, Victor presents Cory with his award. Cory was surprised and said he was honored to receive such an award. Victor didn't reveal how much Cory won by getting this award, however. While Victor was caressing Cory's amazingly beautiful hairy legs, he was thinking about the ways he could speak with Cory about the other exciting subjects.
Victor sucks Cory's big stiff cock for a few minutes, and Cory shoots his load right there in the middle of Victor's attempt to get him hard! Can't blame him, though! Cory's sexual abstention was so long, over several weeks, that it's no wonder he had to blow his load so soon. But there's no reason to worry – Cory's balls are pretty hefty and can hold quite a bit of spunk. Unsurprisingly, Cory was ready for the next round in no time!
This time round, however, Victor decided not to go for another blowjob, but to sit on Cory's cock right away. It proved to be a very wild ride, indeed. Victor always attempts to keep his tops close to him, and he even managed to kiss Cory's neck and head a few times. He didn't go for Cory's mouth on this occasion, but who knows what future may bring!
Victor then lies down on his stomach and lets Cory pound his ass nice and hard. In this position Cory was able to control himself better and fuck him for a long time, so that it was enjoyable both for Victor and for the viewers of the video. When Cory finally came, Victor says that he felt it all inside of his ass, and it was at that moment that something really magically happened – Cory kissed Victor! Damn! That was unexpected for sure!
This was a great fuck session. Cory was satisfied with his performance, and happy that he got so much support from his fans.
Preview video: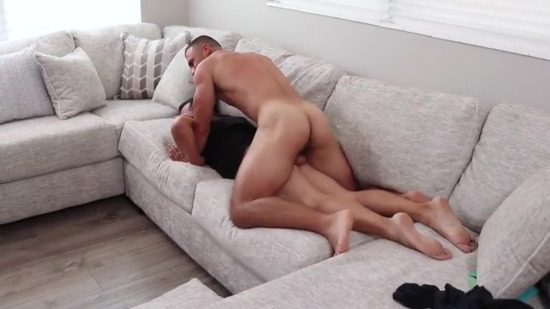 Click here to watch or download their entire video in HD quality at BeefCakeHunter.