Having already tasted Argentinian young beefcake Lautaro once, Victor could not resist the temptation to get him back into his bed for some more sexual exploration. And who can blame him? Lautaro is one of the hottest, manliest young Latino studs that have appeared recently on any porn site.
Before going for the main course of the day, Victor first let Lautaro enjoy himself while Victor was recording every part of his hot body with his camera. Lautaro got turned on by this, and his dick became fully hard in no time.
Victor promptly fell on his knees and started to suck his big hard cock, while Lautaro was filming the entire thing with Victor's camera from his perspective. Victor must have been a pretty expert cocksucker, giving Lautaro some amazing blowjob sensations. And it seems that Lautaro got distracted by all this and lost a bit of focus at some points on the POV.
Then Victor took the camera away from him to enable Lautaro to focus better on the blowjob itself. Victor started to record everything from below, from his perspective as a cocksucker. Lautaro is obviously a big lover of blowjobs, and he definitely enjoys having his cock professionally serviced.
Victor was unsure whether Lautaro would bust his nut while getting his cock sucked, and as time went by it seemed that he wasn't yet at that point. However, his cock was so hard that it was obvious he was ready to fuck some willing hole with it. And as Lautaro himself pointed out, that would be his first time to fuck another guy.
Lautaro started to insert his very hard stiff cock into Victor's ass, and he went quite slowly in the beginning. But then Victor became much more verbal, and this fired much more passion with Lautaro. He even mentioned a word in Argentinian Spanish, "pija". But then things went into an even better direction, especially when Victor switched position and lay on his side. Victor was so turned on by Lautaro's hot chest and handsome face, that he couldn't resist getting closer and sniffing and tasting them while he was getting fucked.
Victor then lay down on his stomach to enable Lautaro to fuck him at his own pace. At that point in time Victor could definitely feel Lautaro's "pija" deep in his ass.
While it would have been perfect if Lautaro busted his nut in that position, it seemed that he was not yet ready and asked Victor to jerk him off. Nothing wrong with a hot jerkoff session, however, and Victor was happy to provide a helping hand for that hot stiff straight cock. Victor says that he's pretty sure we will be seeing more of Lautaro in the days and months to come, when this straight stud becomes more comfortable with this type of sexual expression.
Here are Lautaro's stats: he's 22 years old, his height is 6'4" (193 cm), he weighs in at 195 lbs (88 kg), and his cock is 7" (18 cm) long.
Preview video: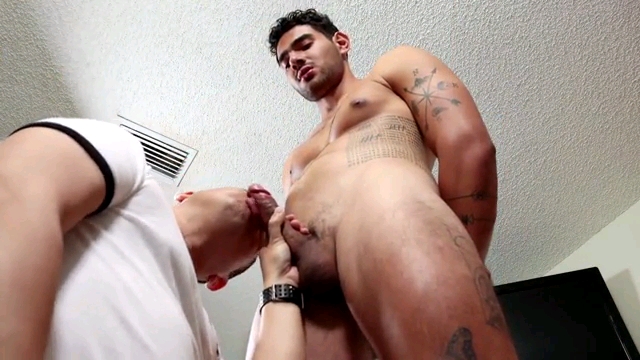 Click here to watch or download their entire video in HD quality at BeefCakeHunter.