Eric is a very hot, muscular straight soccer player. The Keumgay director first encountered him at the edge of a soccer field in Paris and, when the right moment came, he decided to approach Eric and propose him to do a massage shoot with them. Surprisingly enough, Eric agreed to this right away. There was no need to persuade him at all. He had never posed naked in his life, much less for a video that would appear on a porn site.
Eric is one of those serious, silent, stoic-like straight guys who don't talk much and never show any emotions openly. The director was a little concerned because Eric didn't smile even off camera. Suspecting that Eric didn't like the whole thing, the director was expecting that he would just get up in the middle of the handjob and leave the studio. Fortunately, nothing like that  happened…
Eric didn't ask many questions, and outwardly he seemed to be interested and very excited about being photographed and doing a video for a porn site. So, when he arrived, the first thing that they did was to do a photo shoot. Since that went pretty well, Eric agreed to do a video as well, during which he would get a massage. Even though he didn't smile or say anything, it's pretty obvious he enjoyed the experience… he kicked back and started enjoying the ride.
The fact that Eric was silent throughout almost the entire shoot made the director apprehensive, and he feared that Eric might just get up and leave in the middle of the whole thing. It wouldn't be the first time that something like that happened – there were many straight guys who just didn't have enough courage to go to the end.
While the director was checking his cameras, Eric would stare at him from time to time, as if bewildered. The director didn't dare to look at Eric in his face directly, because he thought that it really bothered Eric to be wanked by another guy. However, Eric didn't make him stop, and apparently derived some pleasure from it.
Once he was reassured that Eric wouldn't leave, the director began to enjoy this rare opportunity to worship this soccer player's amazing muscular body and stroke his beautiful, powerful, long and thick dick! It was such a pleasure that the director kept doing it for 2 hours straight! And Eric was hard throughout all that period! As the time went by, Eric started to suspect that that solo shoot was taking a bit too long to finish, so the director finally told him it was ok to watch a good straight porn flick towards the end of the session so that he could stay hard.
When the video shooting was over, Eric said that he really enjoyed the massage itself, but not so much the sexual aspect of it, because he didn't expect it. It is unlikely that he would be back, but we can still enjoy this one-off video with him.
This new video contains also some previously unreleased scenes, such as the moment when the director manages to get the green light for sucking his cock. Eric seemed a little confused when the director asked him if it was OK for him to suck his cock. It appears that he feared that the handjob would eventually evolve into a blowjob, but he gave his permission nevertheless. We think Eric definitely needed this experience, and probably secretly enjoyed it, in one way or another!
Preview video: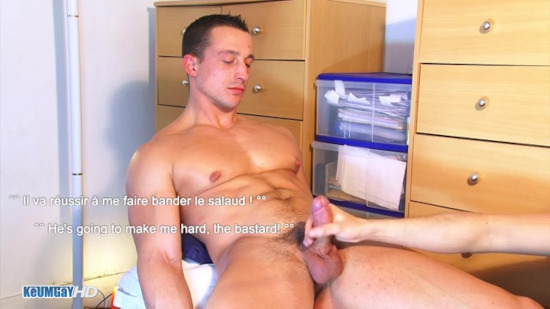 Click here to watch or download their entire video in HD quality at Keumgay.