We have already seen the first appearance of hot young construction worker Jeremy, a handsome straight guy who is willing to experiment. You can check it out on our blog here.
When he came for the first time, Jeremy thought that he would just do a solo jerk off scene. Little did he know what the director and his pervy assistants intended for him!
For example, one of the big-dicked assistants approached Jeremy and simply offered him his big cock to suck! As if spellbound, Jeremy immediately accepted the unexpected offer, but it's rather obvious that he was really nervous, shy and uncomfortable about the whole situation.
In the beginning, nobody knew yet that this would escalate into a full-blown blowjob, so the cameras started recording it from a distance and everything was improvised. But then it became obvious that Jeremy really wanted to suck that cock, and that he agreed to being recorded while doing that! Jeremy simply pulled down the assistant's pants and started to feast on his huge cock.
While sucking and munching of that big assistant dick, Jeremy's own dick started to get hard very quickly. Obviously, this hot muscular construction worker got pretty aroused while sucking another guy's cock and having his big dick stroked at the same time. And when the assistant started to shoot his load, Jeremy was so turned on by that, that he almost came at the same time.
Jeremy felt a mixture of great excitement, embarrassment and a sense of wonder all at the same time. When he ejaculated, Jeremy pinched his lips and then admitted to the director and his assistants that he definitely enjoyed this unexpected turn of events, and that he would probably like to repeat the experience!!
Preview video: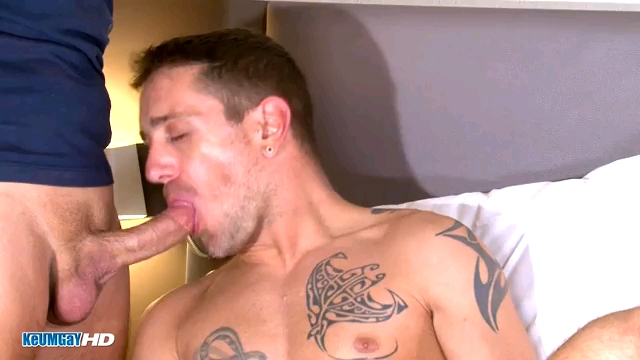 Click here to watch or download their entire video in HD quality at Keumgay.