Pervy old tailor Peter that works in this shop thought that he got really lucky when these two young men came over. You see, the pervy tailor frequently checks out young hot men while he is supposedly taking their measurements. But it didn't go so smoothly today.
Master Billy and his best man Wayne came to the tailor's to get fitted for wedding suits. The tailor can't control himself and continuously touches them in the most private parts while allegedly taking their inside leg measurements.
Well, this dirty little twat has no idea who the young men really are. He thought they were the usual stupid straight young guys, but soon enough these young guys will be taking his measurements.
Master Billy and Wayne start forcing their hard cocks in dirty tailor's mouth and ass. It's time this bitch paid for all the dirty tricks he has pulled on his unsuspecting male customers. Lowly sub peter quickly realized he'd better take care of Billy's ass when the nasty Masters shoved them into his face. The pervy tailor is forced to lick and worship the young men's arses, while the horned-up buddies are wanking their cocks and kissing.
Preview video: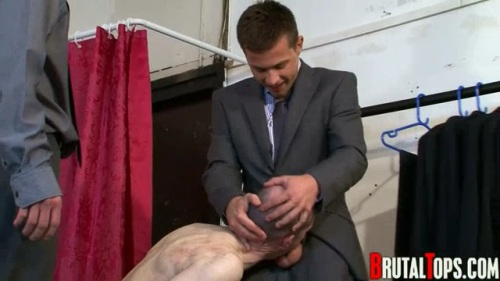 Download this one and many other horny new BDSM videos at BrutalTops!
Brutal Tops is a fantastic site for lovers of the most ferocious sexually aggressive doms in the world. These dominant men love to give orders which have to be obeyed!