Today we are going to take a closer look at four hot straight lads: George Tanner, Cameron Donald, Charles Collins and Lewis Grant.
Young straight jock George Tanner is finally back after about 3 years of being away. Now he looks more ripped and muscled and then ever. He has been obviously busy with bulking up at the gym, as well as playing rugby with his buddies.
The combination of these two activities has given him really muscular legs, big muscular biceps and an overall fit and ripped body. He hypnotizes us with his bright blue eyes, and then shows off his tattoos and short brown hair.
There's no denying that George is one really handsome guy! As soon as he removed his clothes, he got busy with his cock, playing with it. It doesn't take him long to get it fully hard and throbbing! He proceeded to walk around director Nick's house, and gave us a tour of it.
Somewhere in the middle of the shoot, George's best friend Jack Keaney joins him in the video, making his guest appearance. Thesr two guys are proudly showing off their cocks together. When he finds a comfortable place on the sofa, George proceeds to power stroke his large cock until he shoots a nice big creamy load!
*****
These three straight hunks – Cameron Donald, Charles Collins and Lewis Grant – definitely didn't waste any time and got down straight to action in this hot threesome video. First, Charles and Lewis start kissing each other passionately, and then Lewis gets rid of his clothes and grabs both Cameron's and Charles's uncut cocks in his hands, and proceeds to stroke them side by side.
Having such beautiful hard cocks in his hands was a bit too much of a temptation for him, so he soon starts to suck them both! It's great to see two rock hard cocks being sucked at the same time!
Lewis then gets into the doggy position and Charles goes straight for his ass and starts fucking it nice and deep while at the same time he is busy with Cameron's big pulsating dick in his mouth. Lewis' both holes were completely filled, which obviously made him very satisfied. Charles was busy with ravaging Lewis's hole, and at the same time he was quite skillful at making Cameron shoot his load while his cock was in Lewis's mouth!
Charles then pulls out and all three boys stroke their cocks on the bed together. Lewis was the first to bust his nut, and then Charles followed suit, making a huge mess all over his abs!
George Tanner
Cameron Donald, Charles Collins & Lewis Grant
Preview videos: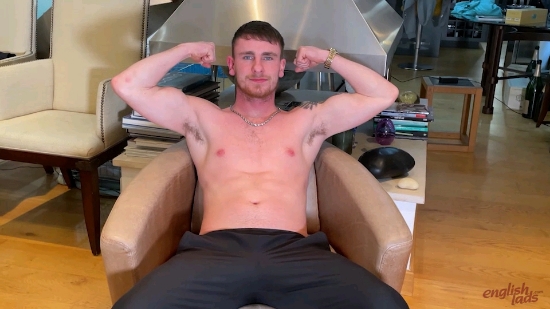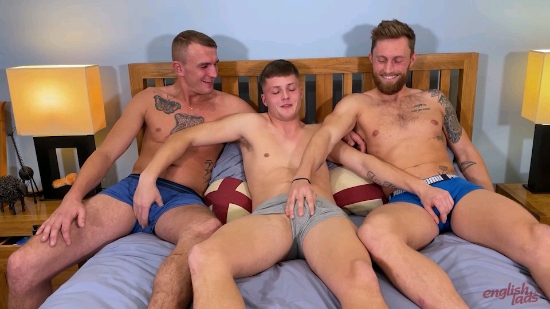 Click here to download their entire videos in perfect HD quality at EnglishLads!
English Lads is a fantastic site with loads of very manly, straight lads from England who love to show off and jerk off for the camera.  The guys that appear here are usually not found on any other site, so the content is quite exclusive. All movies are in HD quality.