Today we are going to take a closer look at three very hot muscular straight guys: Baxter Robbins, Harvey Robinson, and Dustin Healy.
Baxter Robbins is a very hot and very muscular young bodybuilder. This is his first time to appear on Englishlads, and on any porn site for that matter. He had made some shoots for Fityoungmen previously, and unsurprisingly he was an instant success with the site members. Despite his rough muscular build, this straight man is only 21 years old. We really enjoyed watching him flexing his powerful muscles, and admired his hot tanned body from head to toe. His hair is naturally blonde, and all in all, he really does look like a real Adonis! It seems that Baxter is a bit of an exhibitionist, because it's obvious that he thoroughly enjoyed showing off his body for his fans. But make no mistake, that body didn't come out of nowhere. Baxter says that he has to adhere to a strict diet lifestyle, which isn't so easy for everyone. After the flexing showoff is over, Baxter takes off his underwear to reveal a muscular butt and a huge uncut cock! Then he demonstrates some more triceps dips to get pumped, and all stoked, and then he strokes his cock until it's throbbing hard. He gets comfortable on the bed and continues stroking his cock until he shoots his load all over the place!
*****
Harvey Robinson is a very hot straight muscular guy who decided to try his luck in porn. He had previously appeared on Fityoungmen, and he was an instant success. Since it's getting warmer outside and this summer has just started, the director decided to take Harvey with him to the rooftop so that they can make the shoot right there under the sun.
Harvey is a confident, somewhat cheeky type of straight guy, and he definitely has an exhibitionist streak because he totally enjoyed showing off in front of the camera and flexing his huge biceps. Then he demonstrates for us how he does the press-ups and sit-ups, after which he gets all pumped up for the main course of the day, which is of course – jerking off!
He whips off his huge uncut cock out of his boxers. Soon enough, he gets down to business and strokes his hard pulsating dick until it is throbbing hard. There is something definitely masculine about this guy, which sets him apart from many other guys. His abs are well defined, he has some hair on his chest, and a fuzzy treasure trail.
He exudes masculinity in whatever he does. While he's busy stroking his cock, we can see that his toes curl and his legs get tensed up. A few moments after that, he shoots his load all over his muscular chest and six pack!
*****
Dustin Healy is a very hot and muscular straight stud, sporting some serious biceps, big long hairy legs, muscular chest and abs, and a hairy bubble butt. He had already appeared on English lads some time ago, and he decided to come again and show us some more of his hot ripped body!
The first impression that we got about Dustin is that he's one of those laid back, straight lads who have an open minded approach to their sexuality, and don't mind the fact that even gay guys would be getting turned on while watching their videos and pictures. Dustin said he was ready to broaden his horizons and push his boundaries.
First he shows off his muscles by flexing his biceps, and then he demonstrates to us how he does the squats and deadlifts. During all this time his big bulge is quite visible! The director couldn't resist the temptation to offer his helping hand and play a little with Dustin's uncut dick. Dustin's cock is huge even before it gets fully hard. After a few moments, Dustin sports a throbbing hard erection, and boy oh boy, it is so thick!
Next, while he is fully naked, Dustin goes around director's house giving us a tour of all the places in the house while his cock and balls keep dangling in all directions!
Finally, he gets back to the sofa and strokes his uncut dick until he shoots his load so hard that it splatters all over his face! Then director Nick follows him to the bathroom where Dustin takes a well-deserved shower!
Baxter Robins
Harvey Robinson
Dustin Healy
Preview videos: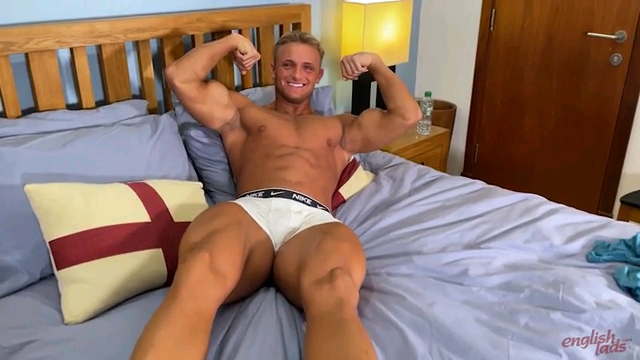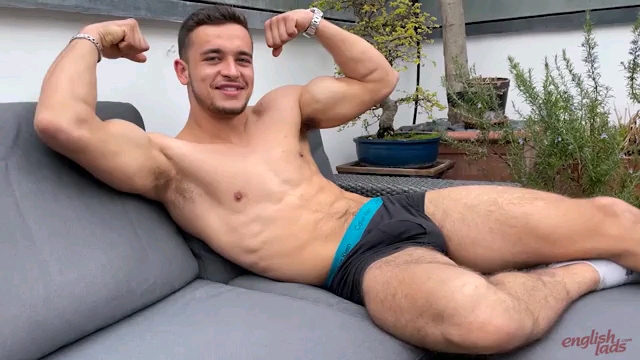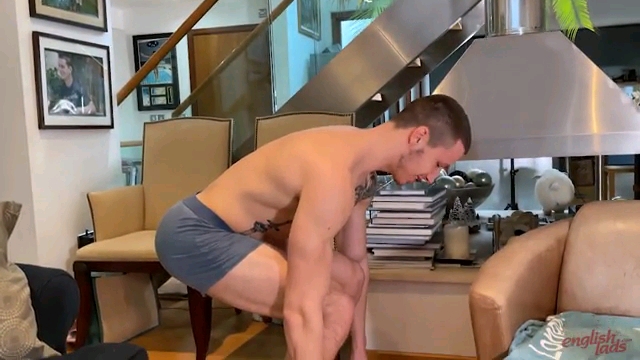 Click here to download their entire videos in perfect HD quality at EnglishLads!
English Lads is a fantastic site with loads of very manly, straight lads from England who love to show off and jerk off for the camera.  The guys that appear here are usually not found on any other site, so the content is quite exclusive. All movies are in HD quality.