Dr Mike De Marco is an MD and senior surgeon at the local hospital. Part of his job consists of explaining to the students, future doctors, the processes and procedures that a doctor should know to perform in emergency situations. His position has made him become arrogant towards young students, and he thinks he has the right to humiliate and slight eager young student doctors. However, when he meets Kayden Gray, who attends his study session, it seems that he has found his match!
Dr De Marco didn't have an available patient on whom to demonstrate the treatment procedures, so he asked Kayden to sit in as the patient. He takes the scissors and cuts the pant leg of Kayden's suit in order to open up his leg all the way up to his crotch. However, he will soon discover that behind Kayden's innocent demeanor there hides a raging huge hard-on between his legs – something that our good doctor Mike hadn't quite anticipated! In the beginning, Mike tries to deal with this raging hard-on professionally, but then he succumbs to his lustful desires.
Mike De Marco is unable to resist the huge cock, and he feels the irresistible need to deepthroat Kayden's huge tool. Kayden now feels that the sheer power of his superior cock has finally enabled him to retaliate. He cuts the senior doctor's pants, making a hole just in the right place. So the cocky doctor De Marco doesn't only get his precious suit trashed, but his ass also gets severely punished with Kayden's massive hard dick. And once more it is proven that you gotta bend over and offer your ass to a superior dick!
Preview video: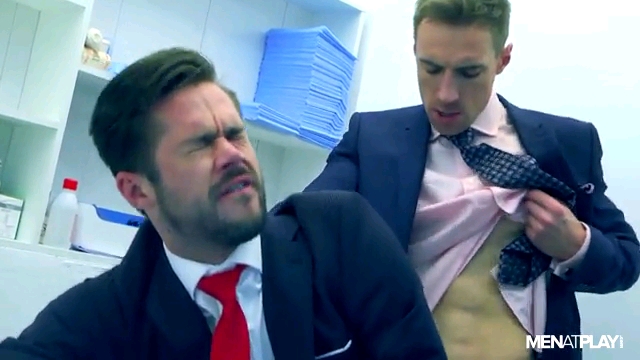 Click here to watch their entire movie in HD quality at MenAtPlay!
Men At Play is THE site for lovers of hot, studly men in their suits. These office guys are too horny to keep their member in the pants, so there is a lot of nasty fucking. This is one of the best sites on the net, don't miss out!