by Ben Daniels (Admin) on Jan.20, 2019, under CumClub
This was a pretty interesting "double blowjob", courtesy of Aaron and Seth. They were joined by their old buddy Walker who got his cock sucked together with Seth. Aaron took it upon himself to orally service these two gentlemen and he did a great job, as you can see for yourself by the end of this hot video!
So, in the beginning, Walker and Seth remove their pants and start joking around while awaiting for Aaron to start sucking them off. As soon as Seth's cock got fully hard, you can see that Aaron couldn't help but checking out Seth's cock size and shape. And as it usually happens, there's a chain erection-reaction between two cocks and Walker's cock soon gets hard as well! By this time Aaron is already on his knees and the show can begin.
Aaron starts with Walker by licking his balls and legs, and then slowly gets to Walker's cock. Walker totally loves getting his nuts licked and Aaron never misses the opportunity to make his tongue busy with Walker's hairy hot body. After several minutes Aaron switches to Seth's raging boner while still stroking Walker's cock with his hand. He alternates between these two erect cocks as if not being sure which one is better!
While he is servicing Walker's cock, Walker says that he'd appreciate if he would suck on his balls. Aaron duly obeys and sucks both Walker's balls. Seeing that Walker's cock is inappropriately left unattended, Seth cums in rescue, bends over and tastes Walker's cock. Seth and Aaron both lick and suck Walker's cock.
Besides having his nuts serviced, Walker also loves getting his ass rimmed, and Aaron is fully aware of that. Seth lifts Walker's leg so that Aaron can have a better access to Walker's hairy ass. Aaron's tongue gets all over Walker's ass while Walker is moaning with pleasure.
Walker gets on his knees and thereby lifts his butt into the air so that Aaron can rim his ass more easily. Seth gets inspired by this sight and does the same thing as Walker so that Aaron rims his ass, too. Once this "double rim job extravaganza" is finished, both Seth and Walker were ready to blow their loads. Aaron is back on his knees and going back and forth between these two hard cocks.
You can feel that Walker and Seth were ready to give Aaron a cum-spraying that he had deserved. Walker and Seth keep slapping Aaron's face with their stiff dicks and Aaron keeps going from one cock to the other. Seth grabs Aaron's head and makes Aaron deepthroat Walker's dick.
Walker strokes his cock a little more, aiming at Aaron's expectant face, and without any prior warning he shoots his load. Walker's jizz first hits Seth's cock and then drips onto Aaron's mouth and face. Seth lubes his cock with Walker's cum and soon enough he also shoots a big load which goes straight into Aaron's mouth and onto his face. Warm jizz everywhere! These cumshots were recorded from different camera angles, as well as in slow motion, so you can enjoy them in all their glory!
Preview video:
Click here to watch or download their entire video in HD quality from CumClub!
Cumclub is a brand new site from the same guys who used to make sites such as Suckoffguys and Barebackplace. Now they are back with brand new site Cumclub and they will continue to showcase their blowjob and cum-related adventures as they travel all around the country.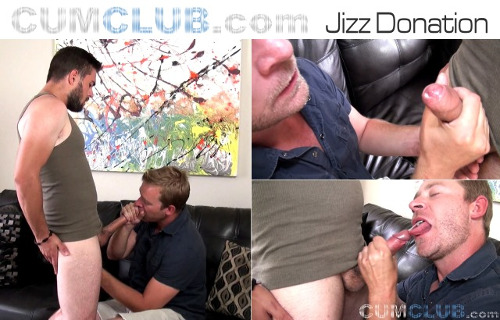 :Aaron French, beard, big cumshot, blowjob, cum eating, hairy, jizz, licking balls, muscled, rimming, Serviced, Seth Chase, straight men, sucking off, Walker Michaels