Miller is a hot young Marine who hails from the great state of Texas. He is currently stationed in California for some special military tasks. Miller is also married and, by his own admission, he is perpetually horny and pretty much always thinks about sex.
o wonder because his 8.5 inch cock is quite popular among the ladies, including older women. Miller had not had any sexual relations with another guy until this moment, but Rob was quite persuasive and managed to talk him into a nice handjob for his big cock. Later, Miller confessed that it was one of the best handjobs that he had ever experienced.
Rob said that it would be best to see Miller in his Desert Storm Cammies, which really give him a slick and masculine look. He takes off his clothes until he's completely naked in Rob's bedroom.M
iller is pretty proud about his large cock and immediately started to stroke that schlong, which stiffened almost immediately. Rob then interfered and told Miller to just relax and put his hands behind his head, because he would be taking over from that point on.
After putting on some lube on his hand, Rob started with his favorite manual labor – stroking a Marine's big hard cock! Needless to say, Miller's dick became rock hard in no time. Rob was surprised at how big that cock actually was! Miller's cock is somewhat bent over, which comes in pretty handy when you want to stimulate the famous G-spot on women. Of course, Rob immediately had a naughty thought about receiving that cock up his ass, and having his own G-spot stimulated as well!
Rob then started to stroke Miller's cock faster, which Miller seemmed to be enjoying because he closed his eyes and in that relaxed state started to actually enjoy the sensations and the entire experience of this handjob. Miller was pleasantly surprised at how good this handjob actually felt. His attention was focused on the porn that played on the monitor, he would skip and fast forward to the parts where the girl was being double penetrated. The sight of two hard cocks which penetrated her pussy seems to be a special significance for him and that made him extra hard.
Once Miller started to moan louder, Rob knew that the point of no return was not too far away. Rob started to lightly tickle Miller's balls, which caused extra pleasant sensations in Miller and he could only raise his eyebrow as a sign of approval. Rob was so enchanted by Miller's cock that he couldn't let it out of his hands. And then it was time to push this Marine from Texas to that point over the edge.
For this final phase, Rob thought it would be best to lube up his hands again. As he was stroking Miller's cock, Miller's legs started to tense up, and his attention focused on the porn where he was trying to find the perfect stimulus to unleash his jizz. And then, without much of a warning, Miller just run grunted quietly and shot a nice thick load all over Rob's hand and his leg. After that he just closed his eyes, breathing heavily, and with a big smile on his face! It must have felt good to know that this handjob indeed had a happy ending!
Preview video: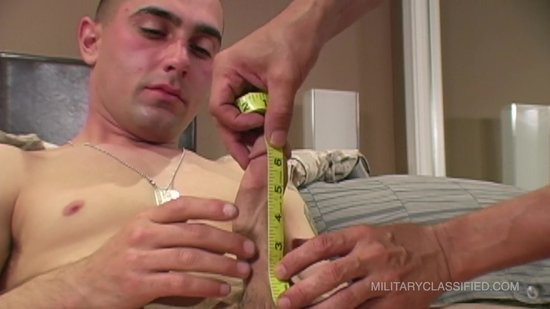 Click here to watch or download his entire video in HD quality from Military Classified.
Military Classified is a well-known straight guy site that features lots of military men (marines, navy men, Air Force servicemen and an occasional civilian guy as well). At the moment of writing this mini-review there were more than 420 videos of various guys in the content area of the site! Of course, the guys are always horny and eager to bust a nut. While for some the primary motivation is money, there are also many guys that are curious to see for themselves if it's really true that men suck cock better.