by Ben Daniels (Admin) on Apr.21, 2019, under BaitBuddies
Big-dicked stud Joe Parker is back, and we're thrilled to see him again hard at work! Joe has recently bought a new home, and the new home requires some adaptations and repairs, so some extra money is always needed. And as there's hardly a better way to get that extra money than to bust a nut, Joe is again back in business – and so is his huge thick cock!
This week's straight guy is called Gustav, and he's a really nice, down-to-earht guy and a very kind person. Gustav believes that we should live in the present moment and not burden ourselves with the things that happened in the past or might happen in the future, but instead to be always in the flow of life. Although he is just 25, he already has quite a bit of experience when it comes to sex. He had participated in some threesomes and even in orgies, and he even told us he's totally fine with participating in a double penetration scenes!
The video starts off with the usual interview where both guys tell the director (Caruso) how far they are willing to go in order to earn cash. Gustav is honest and says right away that he's messed with the guys in the past at least a few times. Caruso and Joe are kinda surprised at how laid-back and relaxed Gustav is. Joe and Caruso are happy that they don't need to persuade him to do anything because he's already willing to try some sexual things with guys! And as you will see for yourself, Gustav's cute and heartwarming smile doesn't go away even when Parker's entire huge dick disappears in his ass!
Preview video:
Click here to watch their complete video in HD quality at Bait Buddies!
Bait Buddies is a pretty hot straight guy site with plenty of updates and some very hot guys indeed. There is always a "bait" dude who is bi or gay, and a straight (or sometimes "straight") dude who needs to be seduced into gay sex.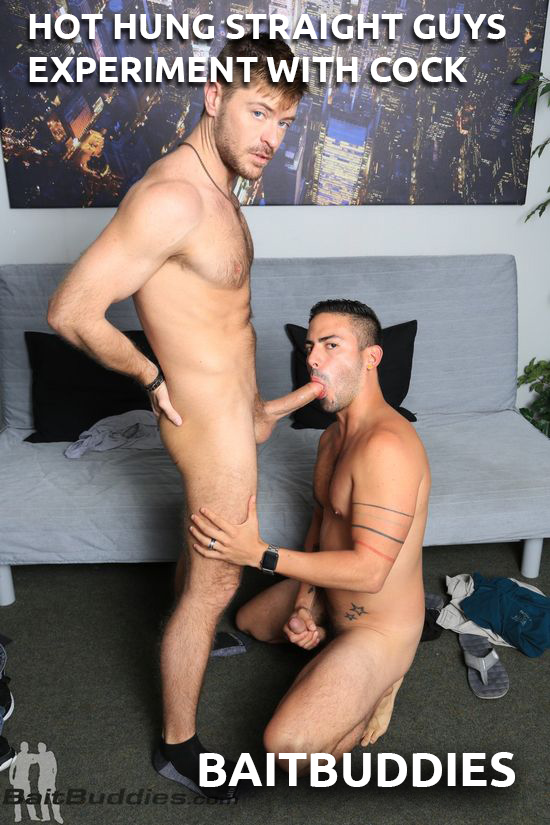 :beard, big dicks, blowjob, cumshots, experimenting with guys, fucking, gay for pay, Gustav, Joe Parker, straight to gay