One of Victor's girlfriends told Victor that she noticed a very handsome rough bouncer that worked in a local club. The bouncer told her that he was looking for a modeling job. Since Victor is always on the lookout for new male talent, and his BeefcakeHunter Land headquarters is always open, she thought it would be a good idea to let Victor know about this new bouncer.
And it's such a good thing that she mentioned Patrick to Victor, because without her this video probably wouldn't have been made.
Victor's first impression about Patrick was that he had a very strong, rough and earnest attitude. He also came across as a little intimidating rough dude, which made Victor slightly nervous. However, after having talked with him for some time, Victor realized that that was Patrick's usual attitude.
As soon as Victor got on his knees and found himself between Patrick's big legs, he couldn't help but start worshiping this rough man's body. Victor reached with his hand and touched Patrick's firm chest. Taking off all of his clothes revealed rather big balls, which made Victor especially aroused. Victor is such a sucker for big balls.
However, behind that serious and shy demeanor there lies an attentive, careful person. Patrick really paid attention to everything that was happening there. Slowly, he started to open up by asking Victor if he liked it. Such a silly question! Of course Victor liked it. Who wouldn't like and want such a gorgeous thick and veiny dick, especially when it's in a hot rough man like Patrick?
When they were already a few minutes into the blowjob, it was rather obvious to Patrick that Victor really enjoyed feasting on his fat cock. In fact, so much so that Patrick became verbal, and at a certain point even ordered Victor to suck his cock! That was truly the feeling that Victor cherished and hoped for.
After some time, Victor could already taste Patrick's precum, and it was for sure sign that he was about to bust his nut. But Victor proceeded with the blowjob because he wanted to enjoy him as long as he could. At some point Patrick asked where Victor wanted his jizz to spray, so it was high time for him to deliver his load. Patrick was loud and verbal and sexy while he was cuming!
Preview video: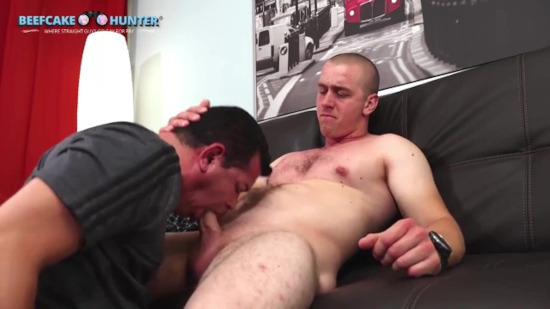 Click here to watch or download their entire video in HD quality at BeefCakeHunter.