by Ben Daniels (Admin) on Sep.22, 2013, under Brutal Tops
When I first saw top Edward I didn't think he was terribly rough, but in time you learn to appreciate the saying "Don't judge the book by its cover". This nasty boy thoroughly enjoys in humiliating his pathetic bottom and serves as his main tutor.
Edward starts out by sitting on Peter's face, pushing his hairy asshole straight into Peter's face. Peter has no other choice but to submit and start licking the ass of his Master. After having cleaned his Master's rear end, it's time to switch to Master's balls and cock. If you think that Peter doesn't enjoy this complete submission, you'd be very wrong. It was Peter himself who applied voluntarily to be trained by this cruel Master and he's all up for it.
Master Edward suddenly decides to shove his cock into the sub's eager mouth. Master Edward hasn't cleaned his penis in a long time, so there's some smegma on it and he orders Peter to clean it all up and swallow. Master's dick grows to its full size and Peter is lapping and slobbering all over it like a happy puppy that has found his Master and wants to show his obedience in this way.
Preview video:


Download this one and many other horny new BDSM videos at BrutalTops!
Brutal Tops is a fantastic site for lovers of the most ferocious sexually aggressive doms in the world. These dominant men love to give orders which have to be obeyed!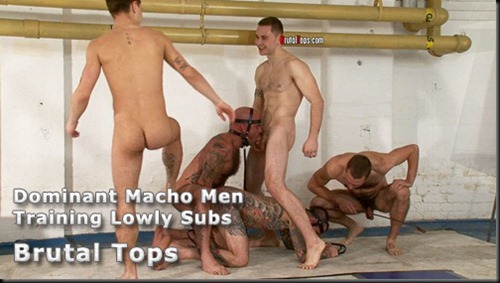 :domination, forced blowjob, licking armpits, licking ass, Master Edward, peter, rimming, submission