The first time Jason managed to take a sneak peak at Michael Evan's ass was when we were editing some of Michael Evans' photos. Jason commented, "Holy shit, this guy has a huge ass!"
You probably know how straight guys love to brag about their sexual prowess. Well, Jason is no exception. He kept on telling us how he would bend Michael over and totally demolish his ass if we ever give him a chance at it. Duh! Of course we will give him a chance! It seems that Michael has a thing for domination, especially when a big ass is involved.
We knew that Michael would be leaving in a few weeks time so we thought that this would be the perfect opportunity to put these two together and see if Jason would keep his promise about demolishing Michael's ass. So now these two hot guys are sitting next to each other on the couch and blabbering the usual small talk, but you can notice that they're both smiling all the time. Maybe the beginners nervousness? Well, whatever it was I think they were both eager to start fucking asap!
Jason did in fact keep his promise and fucked Michael's ass pretty hard. Michael had no other option but to let it all happen the way Jason wanted, and after some time he shot his load all over his torso while Jason was still pounding his ass. When Michael managed to get enough air after the intense fuck session, he throws Jason's legs up in the air and fingers Jason's ass until he cums too.
Preview video: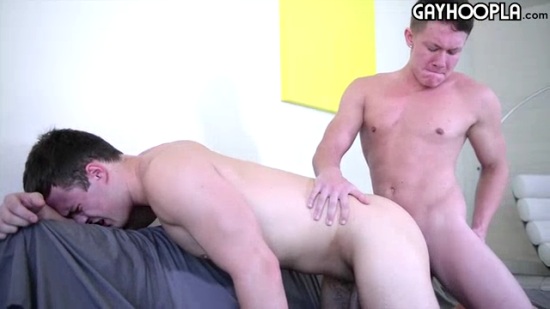 Click here to watch or download their entire video in HD quality at Gayhoopla.
Gayhoopla is a relatively new site and it has an interesting history. Several of the guys from well-known site Fratpad decided to establish their own amateur site, and so USA Cam Guys was born. But the members of this site complained that there was very little concrete action going on. So, the "naughty" and more hardcore sister site was created – Gayhoopla – which contains much more hardcore action among the participants. Despite its name (Gayhoopla) this site actually has more straight guys than some other allegedly straight boy sites out there. It is really reminiscent of Fratmen and Fratpad, so if you're into hot American straight jocks and amateur guys this website is a must and you should check it out. The site contains over 200 streaming videos, daily scheduled live shows etc, so it definitely stands out when compared to other porn sites.