by Ben Daniels (Admin) on Apr.17, 2013, under HardBritLads
Luke Desmond was determined to push little Jamie Mount to his limits. And with his cock that measures 9 inches, it wasn't that hard to achieve this. Poor Jamie had his tight little hole stretched beyond its former limits when Luke shoved his massive dick inside and fucked that hole hard.
They start off sitting on the sofa, both of them wearing hot sports kits. They were horny from the get go and began rubbing their cocks through the shorts. Not long after that they reach for each other's hard rod and also softly suck each other's nipples.
Next, they lose their shorts and we now see them only in their white briefs, with massive bulges from their sizeable cocks. Those hard uncut cocks are aching to be released from the confines of tight undies. As soon as the undies are pulled down, their dicks spring out like determined soldiers ready for attack.
Jamie is awestruck by Luke's one-eyed monster, it is really a huge cock. Never underestimate a huge cock, it can really wreck havoc in your asshole! Jamie has never been with a man with such a huge dick and he approaches it with reverence and awe. He takes it in his hand and begins to suck the cockhead.
Jamie is an excellent cocksucker, considering the fact that he's not a huge lad. He can take quite a bit of Luke's cock down his throat, but he just can't swallow it completely. Luke reciprocates and starts shuffling Jamie's cock around and playing with it. Jamie is so horny that his cock is oozing with precum. It begs to be sucked and jerked, and his asshole is getting ready to get plowed.
They first face-fuck for some time, then Jamie goes on all fours and Luke kneels near him. Luke spits on Jamie's hole and pushes his finger inside. Jamie is already in heaven, and in anticipation of things to come.
Luke rubs his huge cock against Jamie's ass, teasing him. Luke then slowly inserts his giant tool inside Jamie's hole. Jamie groans when only one third of Luke's cock is inside him, but soon enough he will get used to it. Jamie also jerks himself off and Luke advances more and pushes his entire cock in Jamie's ass.
Now Jamie is leaning on the sofa with his legs fully apart and Luke sticks his dick in that tight hole. Luke is gentle and doesn't push his entire monster yet, allowing Luke to get used to it. As they are fucking, Luke pushes his cock deeper and deeper and gets more aggressive.
The sight of Luke's giant cock entering Jamie's tight ass is priceless. You just can't get a more horny and hot picture than that! Jamie also wanks his dick while the copious precum oozes out of his cockhead. Luke is now fucking Jamie with long strokes.
Luke must have hit the right spot in Jamie's ass, because soon enough Jamie shoots his load. Luke pulls out, removes the rubber and goes to Jamie's head so he can deliver a facial. Jamie is hungry for Luke's hot cum and opens his mouth. Luke can't withhold the upcoming cum eruption and the sight of his fuck buddy with an open mouth is too much to bear… so he starts cumming, big thick spurts of his jizz shooting from his cockhead. Luke puts some of his seed even on Jamie's tongue. Great fuck scene!
Preview video:


Click here to watch their entire video in perfect HD quality at
Hard Brit Lads!
Hard Brit Lads is a relatively new porn site that features only the most masculine and well-built straight and bisexual guys showing off and fucking the shit out of each other. The videos are well-made and shot in HD. Don't miss out lots of amazing, manly men!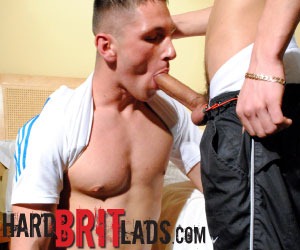 :blowjob, facial cumshot, fucking, hairy legs, huge cock, hung, Jamie Mount, Luke Desmond, precum, shorts, sports kits