by Ben Daniels (Admin) on Sep.26, 2013, under HardBritLads
We find Guy and Theo sitting next to each other on the sofa. Both guys are hot in their own way. Guy is an old friend of ours, we've seen him many times acting as a top, but this time he's gonna take a cock in his ass for a change. He's a hairy and quite handsome man, and he actually reminds me of my ex-boyfriend, so I am definitely a little partial about him!
Anyway, the lads are shirtless wearing only their athletic shorts. They are both quite strong, with well-defined muscles. Guy is more hairy, his legs being one of the hairiest I've seen in a dude. Frankly I really dig Guy's legs.
On the other hand, Theo is smooth and muscled. He's been at the seaside lately so his entire body has a pleasant tanned color.
The guys are obviously turned on by each other and as soon as they started to rub each other's crotches through the shorts, their dicks got hard. Guy massages Theo's manmeat which gets awakened pretty quickly and produces a big bulge in his shorts. Guy continues to rub and grab it through the shorts… then he removes Theo's shorts which leaves Theo only in his white boxers. The bulge is now obviously too heavy for the white boxers, Theo's dick is desperate to be released.
Finally, Guy takes out Theo's hard dick and slowly strokes it so that we can see the beautiful foreskin. Theo's cock looks absolutely awesome in Guy's hand. Guy starts to lick it and then proceeds to suck it. He spits and gets it pretty wet so as to ensure smooth cocksucking experience for Theo.
Theo's dick is pretty thick so Guy has some difficulties getting it all in his mouth, but luckily we men have bigger mouths and throats than women so we can usually swallow just about any dick there is. Guy manages to swallow Theo's entire shaft and continues to suck it. Theo grabs the back of Guy's head and face fucks him a little.
Then it's Theo's turn to return the favor so Guy kicks back on the sofa and lets Theo feast on his hard meat. This was by no means an ordinary, cookie-cutter blowjob, but some real and passionate oral sex action. Theo manages to swallow Guy's entire dick, and continues to deepthroat him for some time. Then he strokes his cock while licking Guy's cockhead with his tongue,  then again some hot deepthroating action.
The men are now lying on the sofa and stroking each other's cocks, when suddenly Theo decides to stand up and Guy gets on his knees. In this position Guy services Theo like a real dedicated cocksucker. This position enables Guy to swallow a bigger portion of Theo's fat cock, which is now buried deep in Guy's throat, pulsating in the rhythm of Theo's heartbeats.
It's time for the main dish of the day, namely fucking, and Theo positions Guy so that he is bent against the sofa. Guy's hairy legs and butt look invitingly hot, as usual. Theo proceeds to rim Guy's hairy ass in order to get it nice and wet for his raging dick.
Now Theo inserts about one third of his dick up Guy's ass, allowing him to get used to its girth. Then he shoves it all the way in, and begins to fuck him. Theo fucks Guy slowly at first, then turns up the volume and becomes more aggressive. He is holding Guy by his waist to keep him steady.
Next, the boys change the position and now they are on the floor, while Theo fucks him sideways. Theo can insert his entire shaft from this position more easily and I must say this sight gave me a major hardon.
Eventually the guys end up in the third position, with Guy lying on his back and Theo on his knees. Theo shoves it in and fucks Guy much harder now. Theo's dick is obviously pushing all the right buttons and Guy says that he can now easily cum without touching his own dick. Theo just goes on fucking him like a madman and gives him a helping hand as well. This pushed Guy over the edge and soon enough we can see nice big streams of cum shooting from guy's cockhead and hitting his chest and stomach. Theo continues to fuck him until he manages to squeeze out every last drop from his man's balls.
Next, Theo goes near the sofa and kicks back so he can cum. He is stroking his dick while Guy is playing with Theo's nipples. Theo begins to feel the orgasm approaching fast and he ejects a nice squirt all over his chest. A few more squirts of his cum and his entire chest is left in a messy pool of jizz.
Preview video:
Click here to watch their entire video in perfect HD quality at Hard Brit Lads!
Hard Brit Lads is a relatively new porn site that features only the most masculine and well-built straight and bisexual guys showing off and fucking the shit out of each other. The videos are well-made and shot in HD. Don't miss out lots of amazing, manly men!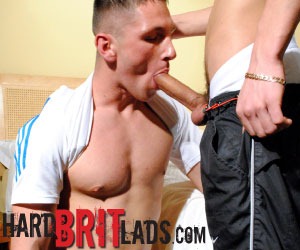 :big cock, blowjob, fat cock, fucking, Guy Rogers, hairy chest, hairy legs, muscles, oral sex, rimming, Theo Reid