It's always great to watch hot masculine stud Paddy O'Brian pounding some eager ass. This time round Paddy was paired with hot and muscled Brandon Jones.
We find the guys standing next to each other and wearing their sports clothes. Brandon can hardly control his hand which spontaneously reaches for Paddy's big bulge! Paddy takes off his vest and lets Brandon touch, feel and worship his amazing muscular body. Brandon is also fascinated with Paddy's strong hairy legs – and for a reason!
Brandon is busy sucking and servicing Paddy's nipples while one of his hands is rubbing Paddy's bulge which grows bigger with every passing moment. Finally Brandon takes off Paddy's shorts, beneath which is Paddy's underwear. The undies are removed, too,  to reveal Paddy's glorious thick and long stiff cock!
That fat cock simply begs to be serviced and Brandon gets down to his knees right away. Paddy needed only a few seconds to get his cock fully hard, but Brandon is in no hurry and slowly sucks and savors Paddy's massive hardon. Brandon is an advanced expert cocksucker, he definitely knows how to suck a man's dick. Paddy gets a little rough with Brandon and shoves his dick deep inside Brandon's throat, face-fucking him. Brandon knows how to take it well, though. That was a great cocksucking for sure! Paddy's cock just keeps pulsating and throbbing like mad!
Paddy positions Brandon on all fours, spits onto his hole, pulls Brandon's ass cheeks apart and pushes his finger inside, to test the waters so to speak. Then two fingers are pushed inside… it takes some time to prepare that hole for such a big and thick cock.
Paddy's amazing mushroom cockhead is now touching and teasing Brandon's asscrack, and he finally pushes his cock inside all the way, balls deep and starts to fuck him slowly. With Brandon's ass cheeks pushed aside by Paddy's hand, we can get a great view of Paddy's massive tool going inside and outside of that tight hole. Paddy gets more aggressive and fucks Brandon harder, and finally fucks him real hard, pounding away that ass with wild abandon.
Next position, Brandon on all fours in doggy position, while Paddy is shoving his manmeat into his ass. Brandon can only moan and groan with pleasure. Paddy is in the total fuck frenzy, his muscles all sweaty and pumped up. Then the guys change the position again, and now Paddy fucks Brandon while he is on his back. Brandon's cock is also fully hard and Paddy plays with it while his own cock is plowing Brandon's ass.
Paddy's whole body is completely covered in sweat, and his muscles look amazingly hot when pumped up. He grabs Brandon's ankles and continues to fuck his ass without giving him any respite. Brandon can't take it much longer and soon he shoots his load – a nice big and strong load spayed all over his six pack. Paddy soon pulls out, reoves the condom, and stands over Brandon, stroking his manmeat. Brandon wants to receive Paddy's load in his mouth and keeps it wide open. And then, Paddy cums – and what a load that was! Paddy shot several big squirts of warm jizz all over Brandon's face, completely drenching him in his cum. Just a great fuck scene with two hot masculine guys.
Preview video: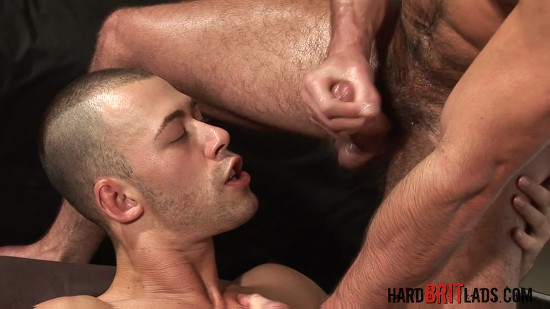 Click here to watch their entire video in perfect HD quality at Hard Brit Lads!
Hard Brit Lads is a relatively new porn site that features only the most masculine and well-built straight and bisexual guys showing off and fucking the shit out of each other. The videos are well-made and shot in HD. Don't miss out lots of amazing, manly men!