NextDoorStudios
by Ben Daniels (Admin) on Mar.15, 2017, under NextDoorStudios
Chase Klein is in a difficult situation because his parents don't want to support him anymore… luckily, his buddy Markie More would like to help him, but Markie's plan and ideas don't sound too great for Chase.
One of their main ideas was to do a modeling gig, and now they've discovered that this job is actually for some gay magazine. And while Chase is already starting to despair, Markie think there's a silver lining to this whole situation… Markie tells Chase they would be stupid to let this chance go by them and he assures Chase they can appear as a gay couple. Markie tells Chase it's all a matter of perception and how cool you are with that in your mind. To prove his point, Markie tells Chase he's absolutely sure that Chase can get hard without even touching his cock.
Chase is at first skeptical, but as soon as Markie starts touching his chest and going towards Chase's fantastic six pack abs, Chase's cock starts getting hard fast! Even Chase is surprised at this turn of events and finally realizes that his buddy Markie was right all along. Chase is now curious to find out if he'll be able to go with this till the very end – all because of the business chance they want to take advantage of, of course – so he lets Markie shove his cock into his hot virgin ass and fuck it. Chase asks Markie to be gentle and slow, but somewhere in the middle of this little experiment between two buddies, Chase realizes he loves the feeling of Markie's cock in his ass.
Chase strokes his cock while Markie's cock plows his ass behind. After some time Chase can't hold it any longer and shoots his load. Markie follows suit, pulls out and adds his load all over Chase's. This was pretty good insight, they both think to themselves, and now they're both ready to go and make that easy porn money that everyone's been talking about.
Preview video:
Click here to watch their entire video in HD quality at Next Door Studios!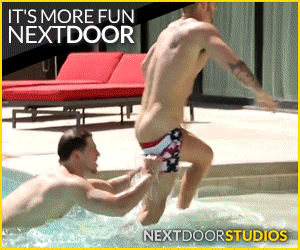 1 Comment
:beard, big dick, blowjob, Chase Klein, handsome, hardcore fucking, Markie More, muscled, ripped, straight to gay, straight-looking, tattoos
Click For More...
by Ben Daniels (Admin) on Jan.30, 2017, under NextDoorStudios
Brenner Bolton still hasn't got over his recent reinstatement, and feels rather down in spirits, when he finds his Superior Officer, Sergeant Markie More in his office! And as it turns out, of all superior officers, it was Markie who petitioned for Brenner's reinstatement. It appears that Brenner got very popular in his batallion due to his personal leadership and morale-boosting abilities. No wonder that his batallion would like to see him back.
While Brenner doesn't think it's strange that his men miss him, Markie's shall we say "hands-on" approach to the matter at hand really surprised him. Markie orders Brenner to take off his clothes without question and serve his country! Brenner can't refuse a patriotic command like that and dutifully obliges. Brenner wants to show Markie his core beliefs and dedication to the cause in every way he can. Brenner drops to his knees and starts sucking on Markie's nice stiff cock. Markie can't help but praise Brenner's cocksucking skills, and he wasn't surprised that Brenner could also take a dick up his ass like you'd expect from a soldier of his stature. Markie is ever more of the opinion that Brenner really does deserve to be in charge of overseeing men in his batallion. This becomes increasingly clear with every Markie's thrust into Brenner's fine ass, and a firm resolve gets shaped in Markie's mind that it would really be wise to send Brenner back to his former position, as such fine soldiers should be rewarded for their good skills and abilities!
Click here to watch their entire video in HD quality at Next Door Studios!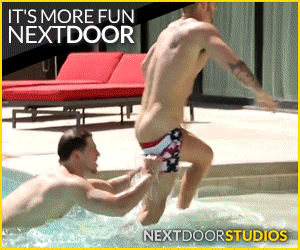 2 Comments
:anal sex, big dick, blowjob, Brenner Bolton, hardcore fucking, Markie More, military men, military uniform, muscled, rimming, stiff cock
Click For More...