by Ben Daniels (Admin) on Dec.07, 2015, under Brutal Tops
Lowly sub Peter has two new masters – masculine, muscled Master Jurgis and his buddy schoolboy Lucas. The two mean masters take delight in treating their new sub boy the way he deserves: as a pathetic excuse for a man. The sub boy is given strict orders that he must follow: lick our armpits, as well as any other part of our sweaty, manly body that we tell you.
In the beginning, Master Jurgis is stripped to the waist. A bit later both masters take off all their clothes and engage in a full-on training exercise on their new sub boy with their fully erect cocks. Jurgis is already eager to stick his engorged cock into the sub boy's little ass. Meanwhile, schoolboy Lucas pushes his huge thick piece of manmeat deep into Peter's wide-opened mouth and throat. The poor sub boy has no other option but to obey his strict masters and do as he's told!
The masters remain completely oblivious to the sub boy's groans and pleas for mercy and continue to spit roast him and treat him like nothing more than a new cum dump. It's now Lucas' turn to plow the sub's ass, so the guys change position. Lucas' cock is amazingly thick and huge, causing a lot of discomfort to the pathetic sub until he properly receives it in his ass. The sub boy would like this to stop but he's powerless to make it happen. The two mean Masters keep executing their plan, with the ultimate aim to put the pathetic sub into his place.
Download this one and many other horny new BDSM videos at BrutalTops!
Brutal Tops is a fantastic site for lovers of the most ferocious sexually aggressive doms in the world. These dominant men love to give orders which have to be obeyed!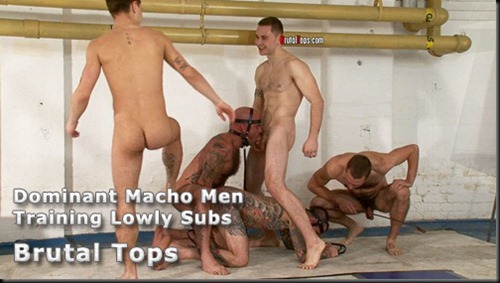 :forced blowjob, forced fucking, hairy chest, huge dick, male domination, master and sub, Master Jurgis, Master Lucas, spitroasting, thick cock