Tag: Jeff Stronger
by Ben Daniels (Admin) on May.13, 2013, under HardBritLads
Chase Reynolds is a hot, fit and handsome lad who likes to get fucked by stronger, more buff dudes. He was in luck today because I paired him with big, muscled and aggressive alpha male Jeff Stronger.
In the beginning they kiss each other for a while, then Jeff Stronger kicks back and enjoys a long and satisfying blowjob session from Chase.
While Jeff is a typical alpha Top, with broad shoulders, strong muscles and beard, Chase is handsome in a more classical way, like a model on catwalk. Chase always aims to please, especially if the guy he's paired with is so strong and dominant. For Chase, there's no better turn on than being in the presence of Jeff's muscled legs, especially thighs. Chase gives his man a good massage and then goes up and up, until he reaches the big bulge in Jeff's sports shorts.
They remove their shirts and Jeff kicks back, allowing Chase to service his big hairy balls, as well as his cock. Chase grabs Jeff's cock at the base, and starts sucking on it. He goes into a good rhythm, and Jeff can feel it because it resembles the feeling of a warm, tight pussy or ass. Jeff's man meat is hard and throbbing and Chase cherishes every moment of this special occasion when he's lucky enough to service an alpha male.
Jeff grabs Chase's back of the head and starts face-fucking his bottom boy. Now Jeff is standing on his feet and Chase is on his knees like every good cocksucker should be, and they proceed with the blowjob this way. Chase manages to swallow most of it, but Jeff is not completely satisfied, and pushes Chase's head more onto his cock until it's tickling Chase's tonsils! I managed to get some pretty awesome shots while they were at it, so take notice.
Now Jeff is starting to think about fucking Chase, and he reaches with his hand down to Chase's ass. He removes Chase's shorts and gets a feel of his smooth fuckable ass.
Jeff gets on his knees and tells Chase to lie on his back on the sofa, with legs right back and with his ass fully exposed. Jeff spits on his man hole and with his finger inserts the spit deeper inside. Chase already moans with pleasure, so Jeff pushes two fingers, to really prepare the little fucker for what's about to happen. Now Jeff sticks in three fingers, to emulate more realistically his cock girth.
Chase is obviously very eager to get fucked by now, so Jeff lays back on his back, keeps his dick in his hand, and Chase sits on it. Chase goes up and down for a while, to get a good feeling of this great cock. But then Jeff aggressively grabs Chase's ass cheeks and holds him in the position so he could fuck him the way he wants.
In the next position, Chase is leaning against the sofa, with his legs fully apart and ass exposed. Jeff shoves his cock deep inside Chase's eager hole and begins to fuck him with long but decisive strokes. There were some variations they both guys invented throughout the fucking, such as increasing and slowing down of the pace.
Next, they sit on the sofa, their dicks fully erect and their balls aching to release the jizz. They stroke their cocks together… suddenly, Chase starts making sounds as if he's coming. His muscles become strained, his stomach becomes like a wash-board. The next moment, we can see hot cum squirting from his cock and flying all around.
Jeff was very turned on by Chase's spectacular cumming, so not long after this we can watch Jeff shooting his seed. The first squirt ended up all the way on his chest, and the following ones went out with less force, and dripped down his hand.
Preview video:


Click here to watch their entire video in perfect HD quality at
Hard Brit Lads!
Hard Brit Lads is a relatively new porn site that features only the most masculine and well-built straight and bisexual guys showing off and fucking the shit out of each other. The videos are well-made and shot in HD. Don't miss out lots of amazing, manly men!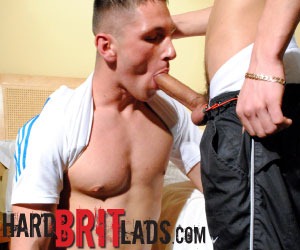 Leave a Comment
:aggressive fucking, alpha male, beard, big cumshot, big dick, blowjob, Chase Reynolds, handsome, Jeff Stronger, masculine, muscled, Serviced, strong arms, strong thighs
Click For More...