by Ben Daniels (Admin) on Aug.11, 2016, under CMNM
Footballer Connor has experienced fantastic success and rapid rise to fame, but in his pride and arrogance he has forgotten everything that his football club has done to support him, promote the development of his talent and the material support of the club as well. He now behaves as if he's risen to the level of international football star all by himself, and he even goes so low as to habitually disrespect the people who have been among the most deserving of his football career success. What an arrogant prick!
As with everything else in life, the fame is fleeting and unless Connor learns some respect and how to adhere to the rules of the game in the football business, he will be eventually replaced by another player without even a second thought. Today the people from his football club wanted to do a check-up on his physical preparedness and constitution. They take measurements of the various parts of his well-defined body and, as they're doing that, this horny devil's cock starts getting hard all by itself, to great dismay of its owner!
Check out these pervy men's wanton adventures in their whole videos in HD quality at CMNM.
Clothed Male / Naked Male (CMNM) is a hot porn site where Nervous straight guys get stripped naked, groped and violated by fully clothed men.
There's nothing better than stripping straight lads completely nude, putting their bodies on display, and teaching them exactly how to submit! When they are in such a submissive position, one would be crazy not to use the opportunity and jerk them off.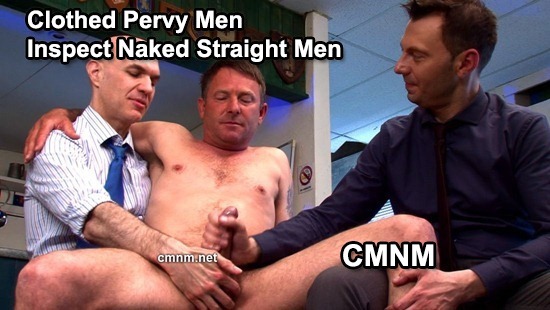 :Clothed Men, Connor, examined, footballer, handsome, inspected, measuring cock, naked men, pervy men