Tag: military drill instructor
by Ben Daniels (Admin) on Jun.02, 2014, under All American Heroes
I don't know about you, but in my opinion Sergeant Miles is a naturally born porn star. He looks awesome both in and out of uniform, and when he fucks he really knows what he's doing. We wanted to find a suitable match for him among the civilian men who we work with, and finally we settled on handsome, dark stud Latino Reid.
Sergeant Miles started to train Reid from the get go, giving out orders and demanding of him to stand at attention. As per usual, Sergeant Miles yells a lot so that he makes himself absolutely clear to his disciple. Reid must do push-ups in the proper way and Miles even puts his combat boot onto his back, between his shoulder blades to make the exercise more difficult.
Then Miles goes behind Reid and makes Reid place his arms out to the side, trying to resist the pressure that the strict Sergeant is exerting as a counterforce on his arm muscles. Reid really tries to obey Sergeant Miles but makes a little mistake. Namely, he calls him "sir", which is not something to be expected from an enlisted man. Sergeant Miles gets angry and increases the difficulty of the workout regime. When Reid finally breaks down and can't continue anymore, he is given one final order – to get totally naked, to get on his knees and service Sergeant Miles' huge military cock!
Miles' cock is half-hard and he's not entirely satisfied with Reid's cocksucking performance, so Miles orders Reid to sit down so he can demonstrate how a man should suck another man's cock. Reid's cock is not small, and when Miles tries to deepthroat it it causes the gagging reflex, but Sergeant Miles is undeterred and continues to suck it deeply and professionaly, simply to make a point to the young recruit – that a job has to be done well, always. Miles even does a thorough search of Reid's ass, then orders him to get back on his knees and suck his cock properly.
Miles got pretty horny and now he wants to fuck some ass. He orders Reid to impale on his erect dick and start riding it like a cowboy. There's a brief moment of the two men kissing and something that seems like exchanging emotions, but then it's rough sex again. Horny aggressive sergeant grabs Reid, carrying him with the strength of his muscles in the air and impales him onto his cock again. He fucks him this way for some time, pounding Reid's ass and pushing his dick balls deep. It's a nasty aggrressive fuck scene, and then Miles pulls out and shoots a massive load of jizz all over Reid's perfect six pack. Since Miles' cumshot was pretty explosive and the cum flew in all directions, Reid stuck out his tongue hoping that he might catch a drop or two in the air.
Now Reid stands up and pushes his own cock into Miles' mouth who receives it willingly. After a few moments Reid unleashes a big torrent of semen that hits Miles' tongue and splatters across his cheek as well. Messy cumshots and rough fucking with a muscled, hung, masculine uniformed man, what can be better than this?
Preview video:


Click here to watch their entire videos in HD quality at All American Heroes!
All American Heroes is a very cool military site with all kinds of uniformed men (firefighters, military men, lifeguards etc.). It's an unmatched and unavoidable destination for all lovers of hunky, hot uniformed guys who like to blow their loads and fool around with their buddies.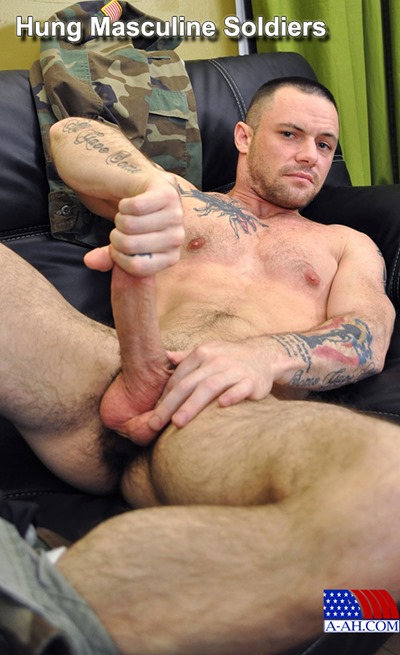 1 Comment
:aggressive fucking, big cumshot, big dick, blowjobs, combat boots, facial cumshot, Latin Reid, military drill instructor, military uniform, muscled, Sergeant Miles, tattoos, Workout
Click For More...
by Ben Daniels (Admin) on Jan.28, 2014, under Island Studs
Justin is a superhot muscular military dude. This masculine straight man works as a military drill instructor in the Marines, but in his spare time he's an avid surfer. He really likes to get naked (wearing only his sports shorts) and go to the public beach in Hawaii to spend an entire afternoon surfing.
Justin is 28 years old and weighs 185 lbs (84 kg) of ripped military muscle and his height is 5'9" (175 cm). If you're wondering whether he's hiding something as big inside his pants as you're secretly hoping he is, then you'd be completely right – inside his shorts there is a rather huge and thick military cock!
Justin didn't mind taking off his shorts and showing us his whole naked body. He just walks outside, takes off his shorts and lets us enjoy the view. Let me put it this way – if you ever wanted to see a buck naked military stud this is a perfect opportunity! I was thoroughly amused and turned on while I watched him paddling out to catch waves – completely naked!
I think you'll agree with me that it would be a damn shame if this hot straight stud wasn't photographed and videotaped for the future generations to enjoy. Anyway, let's see what else he does in this video.
After he's done with the surfing, he starts chatting with the cameraman and tells us something about his taste in women. For instance, for him there's a difference what kind of women he likes to date and what kind of women he likes when he just wants to fuck them! Who would have thought? Lol. He says that and he proceeds to walk around the beach with an erection. We all know that nothing beats the sight of a hot, well-built man who walks around with his stiff boner!
After showing off a bit this cocky bastard starts stroking his cock with one hand, while still holding the surf board with the other. Justin even tried to take a leak in the sand, but, as it turns out, he wasn't "inspired enough". Justin isn't shy about showing us his naked hairy ass either – he kneels down and pushes his ass up in the air so we can see it from the best possible angle. This military man aims to please – in the best possible way.
He continues to stroke his dick, more passionately and at a faster pace now. His shredded, smooth upper muscles and abs are dancing to the tune of his cock-stroking. Justin even starts sweating a little as he's approaching the point of no return. The true gentleman as he is, he politely announces that he's about to cum. Next thing, we see him shooting a nice, thick load if creamy army jizz all over his thighs while moaning like a bull.
After spanking the monkey, Justin goes back to the sea, with his tool still erect and sticking out like a sword, and with plenty of cum still dripping down from it. He didn't mind one bit that he was out there in front of unknown people and he even put on a little show for them.
I really liked this macho army dude, especially because of the hot aura of masculinity that he emanates all the time.
Preview video:
Click here to watch his entire movie in HD quality at Island Studs!
Island Studs is a great, new, and refreshing porn site that features hot guys from Hawaii. These bad boys have no problem with showing off their beautiful, toned body and hard cock. Watch them as they do their usual chores against the stunning backdrop of Hawaiian nature!
1 Comment
:big dick, bubble butt, handsome, jerking off, Justin, military drill instructor, military men, muscles, shaved head, showing ass, surfer
Click For More...