by Ben Daniels (Admin) on Dec.13, 2015, under BaitBuddies
Scott Riley decided to try his luck as our new bait boy. He's a cross fit trainer, very outgoing and physical. He plays a lot of sports, is always on the move and has had sex with many straight guys so far. He says that when he's playing sports, it's pretty easy to approach straight dudes and offer something "extra", something that they don't get every day. Scott says that when he behaves manly, similar to the typical straight guy behavior, straight men don't perceive him as "gay", but more like their equal, and when he proposes sex, they don't take it as something "gay" but more like an invitation to experiment a bit.
Jimmy is our brand new straight dude for today! He is 5'11" tall, with toned slender body and very high sex drive. Our director Caruso was eager to know how Jimmy maintains his fit figure, and Jimmy responded that it is his "natural metabolism". He's pretty lucky to have such an efficient metabolism, don't you think. Jimmy is also a very lucky owner of a beautiful dick that measures at least eight and a half inches.
During the introductory interview, we find out that Jimmy actually hails from North Carolina, so he's a total country boy! About a year ago Jimmy moved to Ft Lauderdale because he likes the warm weather and wonderful beaches here. As soon as he mentioned beaches to us, we pictured him almost naked, wearing only his swimming trunks and showing off his hot body for us.
Jimmy says that gay guys often stalk him and make advances at him in gym showers. He admits that he did look at some of these gay dudes with desire, but that nothing came out of it eventually. Well, it's high time to change that! Caruso asked Jimmy if he would be in the mood to try something with another guy, and he said "maybe". Both guys quickly get their cocks hard, and then there's the usual story about the girl who didn't show up. The guys are offered double the amount if they agree to have sex with each other.
Scott notices that Jimmy's cock got soft while they were talking about the missing girl, and quickly grabs it with his hand it in an attempt to wake it up. Jimmy is dismissive and rejects Scott's helping hand… but after a few moments he changes his mind and lets Scott do his thing. Jimmy seems to be impressed by Scott's sizeable cock and muscular body and begins to check out his hot chest, stomach and arms. This was actually the first time that Jimmy touched another guy's body in sexual way, and I am pretty sure he enjoyed every second of it.
Scott is eager to finally swallow Jimmy's sizeable dick and, damn, did it disappear in his mouth and throat! It seems as if Scott lived for this moment – to swallow that big cock and deliver the best blowjob that Jimmy had gotten in his entire life! Then it's Jimmy's turn to return the favor. Luckily for him, Scott's cock is of average size, so he had the opportunity to practice easily. The guys also kiss each other, and it becomes obvious that Jimmy begins to like his first guy-on-guy encounter.
Scott finally offers his inviting bubble butt to Jimmy, and Jimmy shoves his 8,5-inch cock right into it. Jimmy is not very gentle and plows Scott's ass without much mercy! Scott likes this aggressive attitude and yells "fuck me harder!" Jimmy's fuck style is pretty hot, it's quite aggressive and fiery. The guys continue to kiss each other while Jimmy is fucking that tight hole like a madman. Eventually, it's time for the boys to shoot their loads. Jimmy pulls out and shoots a big load all over Scott's stomach. Scott then follows suit and strokes his cock until he, too, dumps his load.
Preview video:
Click here to watch their complete video in HD quality at Bait Buddies!
Bait Buddies is a pretty hot straight guy site with plenty of updates and some very hot guys indeed. There is always a "bait" dude who is bi or gay, and a straight (or sometimes "straight") dude who needs to be seduced into gay sex.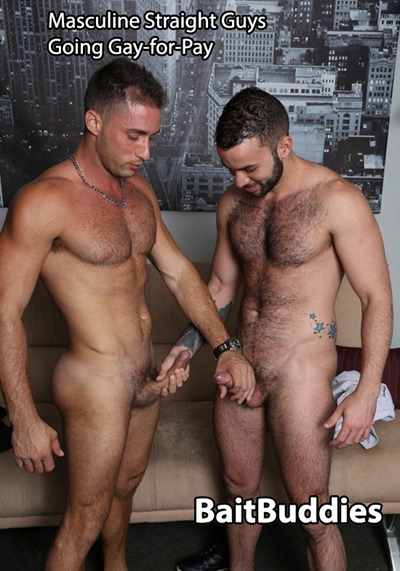 :aggressive fucking, beard, big dick, blowjob, first gay fucking, gay for pay, jimmy, muscled, Scott Riley, straight men, tattoos