by Ben Daniels (Admin) on Apr.15, 2014, under TheGuySite
Mitchell is a mountain of a man and professional boxer. This hot masculine stud is 6'2" tall and weighs about 220 pounds of hard muscle. We talked him into showing us how he boxes completely naked, then proceeds to jack off his cock so we can all watch and enjoy.
This man is certainly not in any lightweight category and can pretty much crush most opponents with just one his hand. He's exactly the big beefy type of man we like to feature on this blog! He heard about this interesting site devoted to hot straight guys called TheGuySite from a patron of his in the strip club where he works as a, well, stripper. Good thing he was referred to us or we might have never seen him as he's not very much into online porn. Mitchell is more of a traditional type and likes to do things in the real world.
Click here to watch his entire video in HD quality at The Guy Site!
The Guy Site is a great destination for all lovers of amateur, "next-door" type of guys. These guys are not "pretty-perfect", they look more like your next door neighbor, but just because of that they are more authentic and hence more realistic!
When you go and walk around your neighborhood you're more likely to  meet one of these hot "next-door" dudes than some perfect bodybuilder. That's not to say that there are no bodybuilders on The Guy Site, but even they are amateur types. That's why I really like The Guy Site. Certainly worth checking out.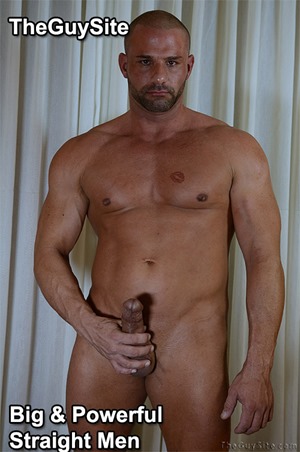 :beard, beefy, boxer, jerking off, manly men, Mitchell, shower scene, showing off, straight men, stripper