by Ben Daniels (Admin) on Aug.17, 2009, under New York Straight Men
What do you get when you cross 2 hot, hairy straight dudes with an eager cocksucker? A cocksucker who thinks he went to heaven!
Officer X returns fresh from work, this time. He had no time to contemplate exactly what was going to happen. We contacted him about 2 hours prior on his mobile and we got an impulsive "FUCK YEAH"! When Officer X arrived he had on his jeans, but also a Police Athletic League tee-shirt. He didn't want to appear on camera wearing it, he suggested we start off with him shirtless. While we considered it, we feel that the 'art of undress" is very important. He was in luck, a friend of ours makes tee-shirts and a sample pack arrived the day before, although a little tight, we though Officer wore it amazingly well.
We paired Officer X up with our good friend Nick. We think Nick is so sexy cause he is a furry stud. We love it when the younger guys are furry as Nick is.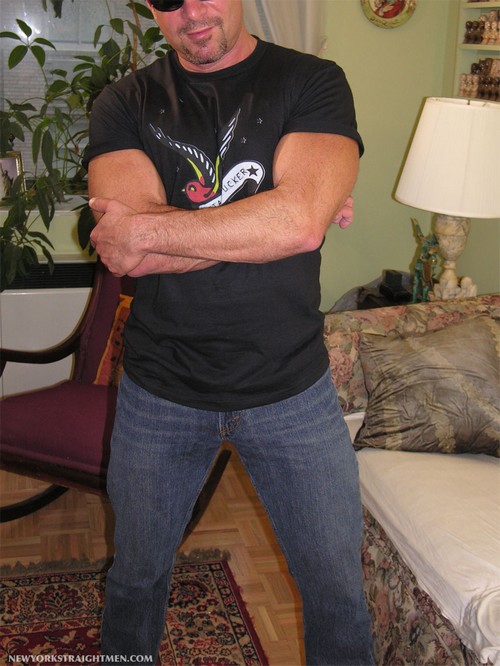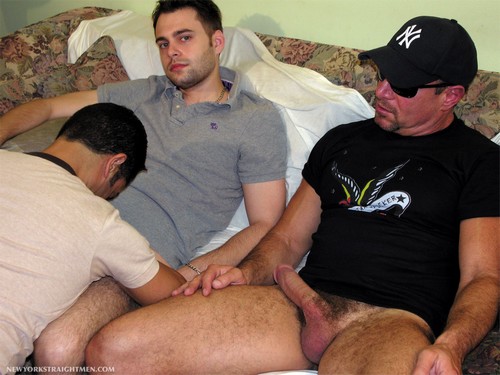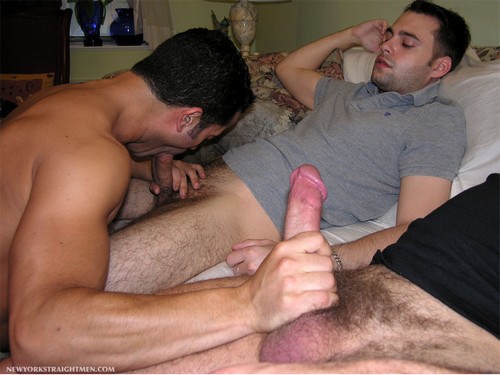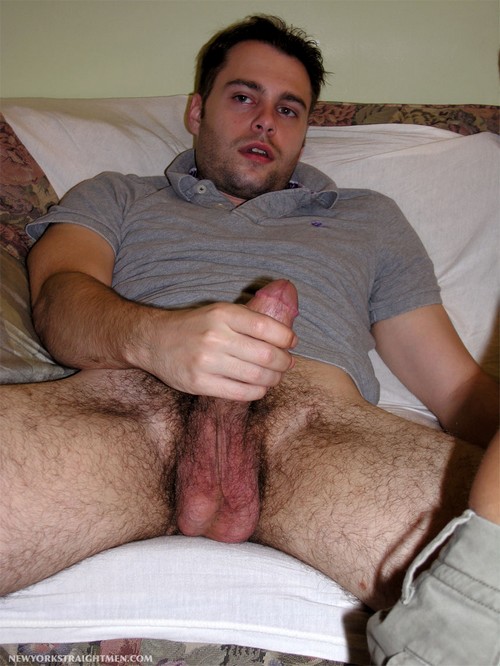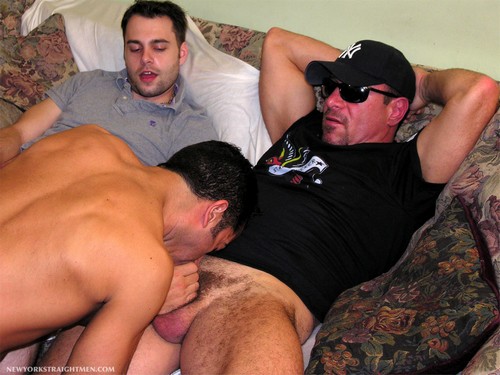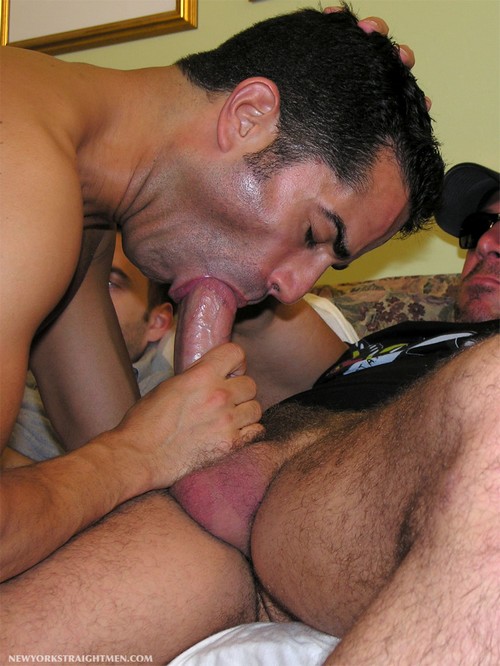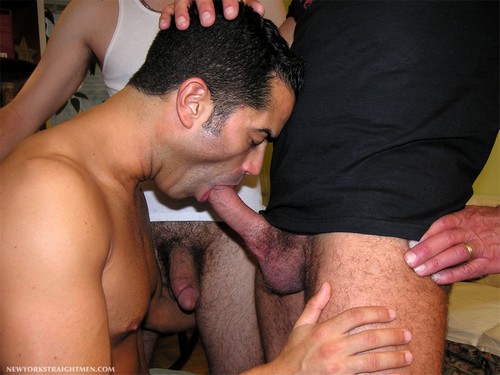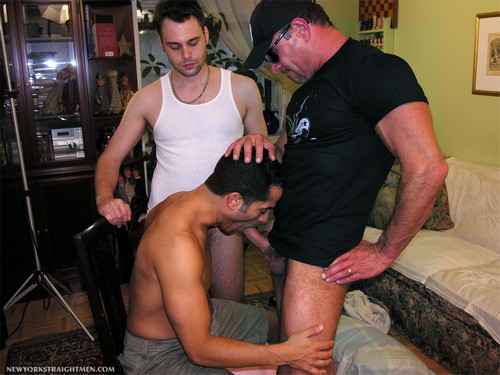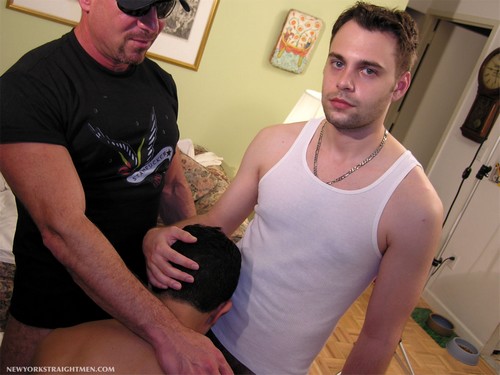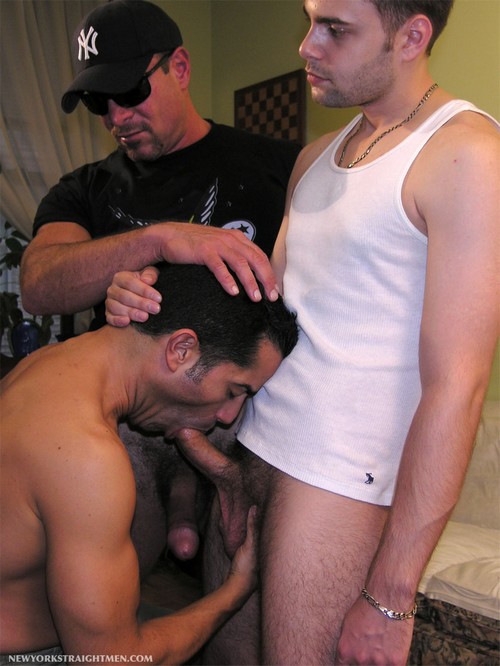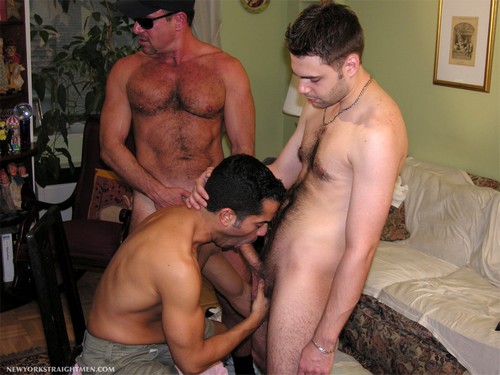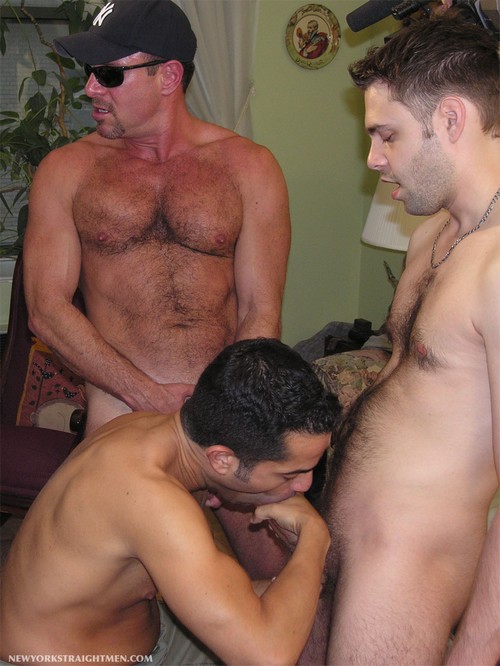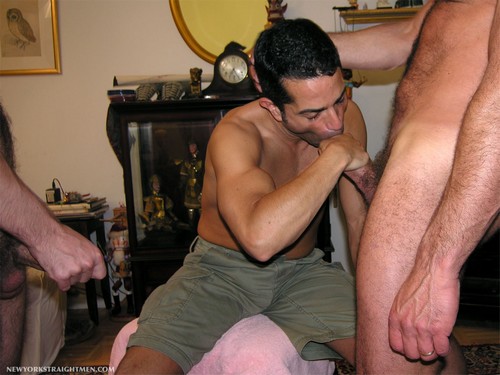 Bobby was in cocksucker's heaven. He was so keen on servicing these two Hot and Hairy Studs. We loved the way it looked too; Officer X is a man in his 40's, Nick is a stud in his 20's getting serviced by Bobby who falls right in the middle, in more ways than one, he is in his 30's. There was so much sucking, slurping the testosterone level in the room was at an all time high. Nick and Officer X decided that Bobby was going to rim their hairy asses and when Bobby had in face under a set of hairy balls and tongue on a hairy man-hole, Nick and Officer X gave each other the "High Five"! That's HOT!
All good things must "cum" to an end, sadly. But in this ending Bobby gets sprayed with the spunk of two hot straight studs- they gave him a sperm bath and Bobby wasn't sad at all.
Click here to watch this video and 100s of straight men getting their first blowjob from a man!
:blowjob, Nick, Officer X, straight guys