by Ben Daniels (Admin) on Oct.26, 2016, under New York Straight Men
We're going back several years ago to remember some of the more memorable blowjobs on Newyorkstraightmen… and one of the straight guys we just couldn't pass is, of course, hot and hairy pizza man Tony!
He had heard about his buddy Vinny's blowjob a few days prior to this, and although he didn't say so, we think Tony became a little jealous of Vinny because he saw him as competition. Tony is aware of the popularity among his gay fans and doesn't want any other Italian straight guy to outdo him in any way, shape or form!
Be that as it may, Tony was very eager to get this blowjob and he was definitely into it, from the start to the finish. By the way, Tony started with Taekwondo training and got ripped in the process, as you will see in this video. He's still the same hot and hairy Italian dude we've come to love and appreciate, but he's also more muscular now.
Tony is usually a man of few words, especially when it comes to blowjobs. He likes to direct the cocksucker with his eyes and stare, which almost says something like, "suck my cock, cocksucker". That big fat Italian cock certainly needed some professional treatment, and our cocksucker Trey gave his best, making sure that Tony gets the best service possible. Actually Trey also went into a sort of trance and started to deepthroat Tony's dick without even noticing. At first Tony tried to avert his eyes from Trey and focus on some pussy porn on his mobile phone, but Trey's masterful blowjob was so good that he started to roll his eyes and obviously enjoyed every second of it.
Make sure you check out the extended preview video we've prepared for you.
Extended Preview Video:
Click here to watch their entire video in HD quality at New York Straight Men!
New York Straight Men is the world's biggest collection of straight men getting their blowjobs from gay dudes! These men are usually truly straight but they love getting head from a gay guy because it feels so much better than whatever their girlfriends can do. These men are not the Hollywood type cuties, they are Real Men!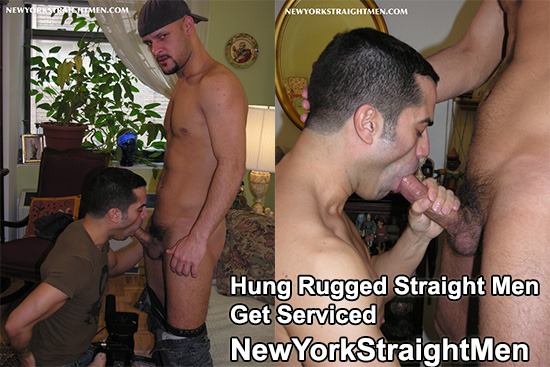 :beard, Big feet, blowjob, cocksucker Trey, cumshot, hairy chest, hairy legs, huge dick, Italian men, Serviced, thick cock, tony, trackies