Lane is an absolutely great guy. Apart from his killer sexy body and big cock, the first thing you'll notice is his infectious smile and a laid-back attitude. He's one of those straight boys who is always chill and cool, and wants you to be happy in his company.
I was so impressed with Lane that I invited him twice to for a shoot. This time I got the privilege to suck on this stud's massive veiny dick. First Lane got undressed, took of his shirt and dropped the pants. He's got a perfect chest with just a smattering of hairs on its upper part. His chest has several tattoos which I think look great on this big boy.
His legs are very strong and pretty hairy, and his feet are quite big. Then of course we come to the most important part of every man's body and that's the cock. Lane's tool is long and gets all veiny and throbbing when it's hard. It feels absolutely great to suck on this perfect dick. It just fills your mouth and throat and the only thing on your mind is how to service this stud as best as you can so that he gives you his long awaited load of hot straight cum. Lane doesn't disappoint in this department either, he shoots massive loads and his cum fills my mouth, overflowing on all sides and slowly dripping on the shaft of Lane's dick.
Preview video: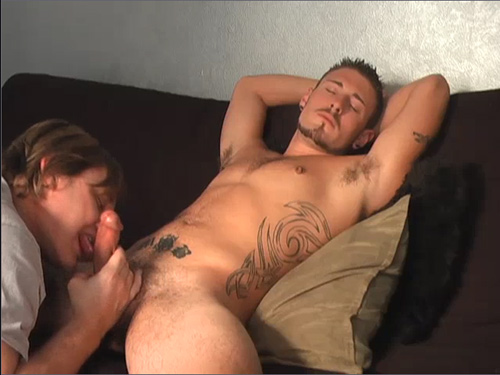 How about watching the whole fucking thing? If you lust after real, masculine straight boys and like to watch these tough motherfuckers showing off and playing naughty games with each other, then you should defo check out StraightFraternity which hosts tons of videos of these bad boys!