You are gonna love this episode with our hairy Italian pizza guy Tony! Vinny the cop and Tony met each other in passing while they were about to be blown by our new cocksucker. We told Tony how great the shoot with Vinny went, to which Tony replied in his characteristic New York accent, "he ain't got nothing on me." Pehaps Tony saw Vinny as his major competition now? Maybe our Italian stud didn't wish to be outdone by some new cop on the block?
We're not sure, but one thing is for certain – Tony really enjoyed this blowjob and was totally into it. By the way, Tony is now doing Taekwondo training, and I can assure you he got ripped since the last time he was here for the blowjob.
Tony arrived and stood silently above our new cocksucker giving him the stare that says "suck my cock, boy!". He was very horny and got hard even before taking it out of his shorts. But boy oh boy, I am always surprised by Tony's massive, super hard cock. It's like a work of art, beautiful and strong in its cockiness.
Tony forced his cock into the cocksucker's throat and held his head down impaled on his cock for some time, getting a tremendous enjoyment from the feeling of his cock being deepthroated like this.
Tony is by now totally at ease with the cameras and he was so focused that he could actually watch the guy who was sucking him off (before he would stare blankly into some other direction, probably dreaming of some hot pussy).
Tony used our cocksucker well and was so satisfied with his cocksucking skills. I have a feeling we're gonna see a lot of Tony in the future, maybe even sharing a wet, deep cocksucker's throat with Vinnie.
Short preview video: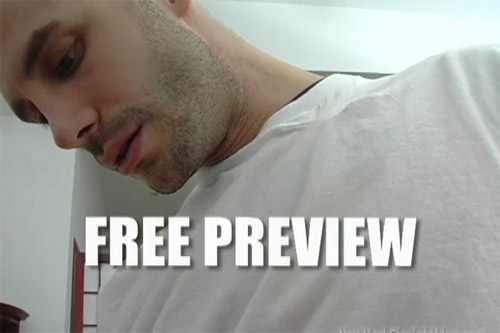 Click here to watch his entire video at New York Straight Men!
New York Straight Men is the world's biggest collection of straight men getting their blowjobs from gay dudes!